27 October 2016
Filed under Book Reviews
Tags: Cheryl Mahoney, The Lioness and the Spellspinners, The People the Fairies Forget, The Storyteller and Her Sisters, The Wanderers

2 responses
Today I'm really pleased to welcome Cheryl Mahoney (author of recently released The Lioness and the Spellspinners) onto my blog.  Cheryl very kindly agreed to write a guest post for me based on her own interest in traveling (which tends to be to literary locations) and how that has influenced the characters from her books.
Welcome Cheryl…
I want to thank Lynn for welcoming me onto her blog!  When I was thinking about what guest post topic to explore, it struck me that her blog is focused on travel and books—and travel just happens to be a theme in my life and writing too.
I didn't plan it, but every book in my Beyond the Tales series (up to four now) involves characters who travel for one reason or another.  The first is the most obvious, The Wanderers, about a wandering adventurer who ends up bringing a talking cat and a witch's daughter onto the road with him.  One of the first ways my main characters connect is through a mutual love of exploring in search of new adventure, to see what wonderful thing they can find around the next turn of the road.
In The Storyteller and Her Sisters, heroine Lyra dreams of travel after a life so far spent trapped in a castle.  Her love interest, Prince Dastan, dreams of becoming a wandering minstrel.  You'll have to read the book to find out if they achieve those dreams!  In The People the Fairies Forget, narrator (and fairy) Tarragon has spent 500 years running from one party to another across countries.  He's perhaps the opposite to Lyra, who wants to travel in search of something; Tarry is traveling to get away.
Karina, the heroine of The Lioness and the Spellspinners, lands somewhere in between those two.  She starts out traveling as an escape (though you'll have to read some distance into the book to find out what from), but whether she knows it or not, she's definitely looking to find something in the process.
Travel in stories, and in life too, can be a powerful metaphor.  Where are we going and why is a much bigger question than simply a matter of geography!  For myself, I'm a homebody who also loves to travel—but I'd never want to travel continuously the way some of my characters do.  And when I do travel, I most often visit places that already feel like home—because I've already read about them.
I've managed quite a few literary pilgrimages over the years, and love visiting places from favorite books or movies.  Highlights and highest-recommended include a visit to the Winnie the Pooh stuffed animals once owned by Christopher Robin Milne, available to be seen at the New York Public Library.  In Paris, it's worth climbing Notre Dame's bell towers to visit Quasimodo's gargoyles, and definitely worth a visit to the Phantom's Opera (better known as the Opera Garnier) to see Box Five and the famous chandelier.
London is a literary pilgrim's dream, if you're me, so I keep going back.  I've tried on Sherlock Holmes' hat in 221B Baker Street, seen plays at Shakespeare's Globe, done a walking tour of Shakespeare's and Dickens' London, and seen where the Bird Woman once fed pigeons at St. Paul's Cathedral in Mary Poppins.  I've also seen Shakespeare's birthplace in Stratford Upon Avon, and Jane Austen's house in Bath.
The ultimate literary pilgrimage, if you're me, is Kensington Gardens in London, setting for one of my very favorite books, The Little White Bird by J. M. Barrie.  He devoted an entire chapter to "A Grand Tour of the Gardens" and nearly everything he described (in 1902!) is still readily to be seen.  Peter Pan and the fairies haunt the Gardens in the most delightful way, and Barrie's own house can be seen (from the outside, at least) just north of the park.
I don't think I've had a literary pilgrimage that disappointed yet, and I'd highly recommend all the places I've just described.  So much of what I read is set in magical other worlds or the distant future, so any chance to visit a real setting is wonderful to explore!
Information about Cheryl's latest book can be found below with a link to her Goodreads page here – her next book sounds excellent.  Check it out:
Plot Blurb
Forrest can't fathom this prickly, knife-wielding girl who so unceremoniously turns up in his family's barn one morning.  His life has never been this exciting.  Karina can't make herself trust the strangely hospitable villagers on this island she's now stuck on, and when they claim they can knit spells into their garments, that doesn't help.  She knows magic exists, but that's just ridiculous.
And no one can understand why the chickens have suddenly started laying gilded eggs, or why the horse is talking in rhyming couplets.
When the inexplicable magic goes from mere bad poetry to actual threats, when dancing becomes dangerous and the wrong thought could cause disaster, the only answers are in the past Karina is fleeing—and the only way to survive is for the knife-wielder to trust the spellspinner.
Purchase Links
Paperback: http://amzn.to/2ej5PFC
Kindle: http://amzn.to/2ehyJ7Y
Thanks again Cheryl 😀

19 October 2014
Filed under Book Reviews
Tags: Cheryl Mahoney, Fairytale retellings, The Story Teller and Her Sisters

14 responses
The Storyteller is a reimagining of Grim's 12 Dancing Princesses.  For those not familiar with the original tale, every night the King locks his twelve daughters into their room and every morning when he releases them the princesses are not only exhausted but their dancing slippers have been worn through.  The king decrees that any champion who takes on the challenge and succeeds in uncovering the Princesses' secret will not only be richly rewarded but will be free to choose the hand of whichever princess he so wishes.  Failure however will result in death – by decapitation.  Rounded up so bluntly like that you can't help wondering why we read this as a nighttime fairytale to our children!
What I particularly liked about the story was that it adheres in format and style to the original but it manages to give the princesses more character (although given there are twelve they don't all get equal time – otherwise this would be a very lengthy novel indeed!)  We're also provided with a little back history into the King and the motives behind the locked door.  Is he protecting his daughters or is he in fact keeping them captive.  I think it also succeeds in making the princesses more likable.  Lets not forget that in the original tale they play a hand in quite a few champions losing their heads!  In this particular story they act quite responsibly towards these men – even though they are unwelcome visitors!  The main character of the story is Lyra.  All the girls not only look very similar but their names all start with the letter 'A' and so to assist with identifying each other they usually adopt the end of the name therefore Alyra becomes Lyra.  She's a book worm who enjoys regaling her sisters with stories about castles and curses never totally putting together the fact that they're living in their very own story!
I think the author succeeds in delivering a story that gives a bit more insight into these otherwise 'anonymous' princesses whilst at the same time giving them an interesting back story.  Plus managing to squeeze in a few more stories along the way.  I thought the change in tack for the last champion was a really good take.
In terms of criticisms I don't really have anything at all other than I think this could have been shortened a little, simply to strengthen the tension a little.  I also think I could have handled a little bit more creepy darkness or more of a gothic feel but, that being said that would have changed the 'feel' of the book.  As it is this has more the feel of a mystery adventure and a race against time to work out a solution.
A lovely retelling of a favourite old tale.  Well written with Princesses that have a little more of a modern outlook.  Talking cats and fairy godmothers.  It will be interesting to go and read the first book by this author – The Wanderers – these books don't have to be read in order but there is some overlapping of characters and I'd like to find out a little more about Tom.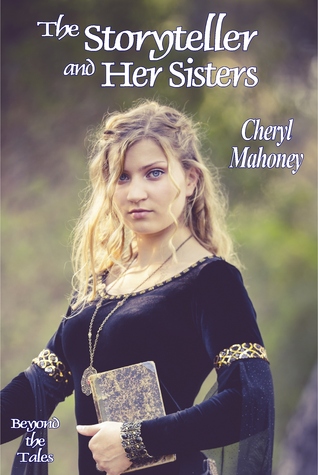 In the interest of disclosure I have known the author in a blogging capacity for some time and was very happy to read and review The Storyteller.  The above is my own opinion.