6 August 2014
Filed under Book Reviews
Tags: Book Events, Brandon Sanderson, Waterstone's Deansgate

10 responses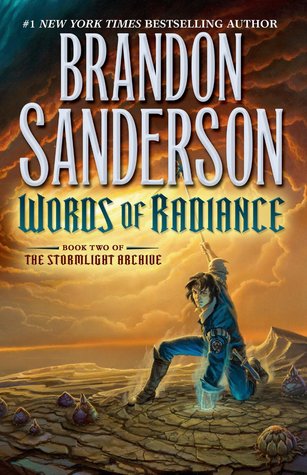 That's right – just one word – that's all you need!!
Last night with my pal Jenny (Wondrous Reads) I attended a book event in Watersone's (Manchester) where Brandon Sanderson was chatting, answering questions, providing readings and giving away upcoming teasers and spoilers.  This was brilliant – plus we had chance for a book signing as well.
I must say that Brandon Sanderson is one enthusiastic guy about his books.  You could be forgiven for thinking there might be a little chink in his armour, maybe he's forgotten the odd thing – I mean, there are quite a LOT of books and they're not exactly skimpy on the page count.  But, nope, you'd be wrong – he is totally immersed, energetic and keen to talk about them.  He could be a really great actor, in which case I would be wrong in thinking that here is a bloke who comes across as really liking his fans.  Of course, we are buying his books so I don't suppose he's going to sit and sneer at us but he just seemed so genuine.  Even after signing huge quantities of books he still chatted with every person who stood in line for the signing, asking each one if they had extra questions, taking time for pictures – even when he was signing sometimes 8 or more books at a time!  PATIENCE!
I'm not going to make this verbatim as it could just become too wieldy.  I apologise upfront if I misrepresent anything here – particularly if I have the future book releases muddled – feel free to correct me.  And, be warned that there could be spoilers in the text below so read with caution (I don't think there are but …).
We started off with Mr Sanderson telling how he still felt so surprised to find himself in his current position (with fans no less) when it seemed like only a short while ago he was practically trying to push his books on unsuspecting would be buyers as they entered a book shop where he'd set up a small station selling his books – apparently it took 12 books (13 if you count his high school one) before he actually got published.
There were a number of questions.  I won't recreate them here but give a quick synopsis.
In terms of writing processes and in particular putting characters through tough times he said that it's difficult.  You become attached to them.  When you start it's a bit like being a director casting a role.  You outline your character and write them into a chapter to see how they work out.  For that matter Vin from the Mistborn series started her story as a man, morphing into an Artful Dodger type character before winding up as the girl we all now love.  Sometimes you like a character but maybe not for the particular book  which you're currently writing – so you put them to one side.  And, sometimes you have a genuine 'ah hah' moment where your character develops more than you anticipated as you give them the freedom to grow.  This of course can help the plot and also prevents the characters from becoming wooden.  In terms of the tough times he sometimes puts his characters through – for example Bridge No.4 – well, he thinks of a situation which would maybe involve life and death (being interested in mediaeval siege warfare helps with that) and from there he goes to the emotions that such situations will create in the characters.  It's tough to write such scenes with character's you have feelings for – but if it makes you as a writer have strong emotion then it will hopefully create strong emotions in your readers alike.
As you'll know if you've read any Sanderson, Gods and spirituality usually play a role.  In order for the religion in his books to work he has to embrace more than one viewpoint.  Otherwise you don't have the full picture.  You have to see using 'other's eyes and use 5 or 6 different sets of feelings and thoughts in order to give a rounded feel.  In terms of this Sanderson mentioned how one of his favourite books – (which I think was Dragonsbane) helped him to look at his own mum differently or more to the point see events through her viewpoint.  He was given the book in high school.  It contains a character who makes tough choices when she becomes a mum and eventually chooses to not pursue her fantastic magical abilities.  His own mum, an accountant made a similar choice in terms of her career and he said it was when finally reading Dragonsbane that he realised the choices his own mother had faced.  Right there – a different viewpoint.
In terms of magic systems – Mr Sanderson looks for something that makes him stretch, something that makes him really think – he looks at something and thinks if this happens, or if this changes, if I change one piece of physics how does that impact upon everything else.  Sometimes that works and sometimes he just has to start writing and see how things pan out!
In terms of future books – he has a plan – to eventually write a book that will link them all together – in that respect, yes, they're all set in the same universe, sometimes characters are referenced or flit in and out, and there are secrets and easter eggs buried within.  Of course that 'joiny' up book is a long way off.  In the meantime, in order not to face potential readers with an epic 25 book series – he writes other smaller novels such as The Emperor's Soul (which, coincidentally is bloody awesome!) which give people a flavour of his style and writing.  He has a cunning plan people and he's not afraid to implement it.
On top of all this – and there were more Q&A – we had a reading from a short story where the magic system is based on bacteria.  A person is infected and in order to keep the person alive to spread the disease the bacteria gives the host magical abilities.  On top of this we were also treated to a reading from a potential novella about Jasnah!  Exciting stuff to keep us WOR fans going in between books.  I must admit that I SO WANTED a reading about Kaladin – I was still very happy though, I think Kaladin and Syl are my favourite characters in the story so far but I do love Jasnah as well!
I think I'm right in saying the next Stormlight archive book is due out 2016 with a Mistborn book next Autumn and a Steelheart book maybe Jan 2015.  There was more info but I've waxed lyrical for long enough so if you want more info check out Mr Sanderson's blog!
Next Page »