28 December 2018
Filed under Book Reviews
Tags: Blackthorn and Grim, Books by Proxy, Friday Face off, Juliet Marillier

17 responses
Here we are again with the Friday Face Off meme created by Books by Proxy .  This is a great opportunity to feature some of your favourite book covers.  The rules are fairly simple each week, following a predetermined theme (list below) choose a book, compare a couple of the different covers available for that particular book and choose your favourite.   Future week's themes are listed below – the list has been updated to help out those of you who like to plan ahead – if you have a cover in mind that you're really wanting to share then feel free to leave a comment about a future suggested theme. This week's theme:
Choose one of your favourite titles and compare the covers
Strangely enough having the freedom to choose any book at all this week actually threw me into a turmoil!  No idea why, I thought the chance to use any book would be liberating but it turned out too much choice and the overall dilemma of what to pick.  Basically, I was like a child in a sweetie shop and on top of that I really have used a lot of my favourite books already (sometimes more than once – eeek!)  Anyway.  I've cheated slightly – I'm not comparing a particular cover but instead going with a series of books and displaying their covers because I love them all: The Blackthorn and Grim series by Juliet Marillier – feast your eyes on these gorgeous covers and fall in love:
The covers:
My favourite this week: all of them 😀
Like last week I've added a Mr Linky here so that you can leave a link if you wish or please leave me a link in the comments so I can visit and check out your covers.  Thanks
Next week – A cover that is 'fresh'
Future themes: (if you're struggling with any of these themes then use a 'freebie' of one of your favourite covers)
2019
4th January – A cover that is fresh – New beginnings for a New Year
11th January – 'I know I have the body of a weak and feeble woman, but I have the heart and stomach of a king' – A cover that depicts a novel set in the Tudor period
18th January – A cover featuring an Amulet – either in the cover or title
25th January – 'Be kind whenever possible. It is always possible.' – A cover featuring a monk/priest/person of the cloth
1st February – A comedy cover
8th February – 'Hi little cub. Oh no, don't be ssscared.' – A cover with snakes
15th February – A heart – for Valentine's day past
22nd February – "Woe, destruction, ruin, and decay; the worst is death and death will have his day." – A cover with abandoned building/s
1st March – 'who will buy this wonderful morning' – A cover featuring a shop or market
8th March – 'Two little fishes and a momma fishy too' – A cover featuring a fish/fishes or other sea creatures
15th March – 'Beware the moon, lads.' – A cover with a shapeshifter
22nd March – 'A horse, a horse, my kingdom for a horse' – A cover featuring a king
29th March – "I thought unicorns were more . . . Fluffy."  – A cover featuring a unicorn
5th April – 'nomad is an island' – A cover featuring a desert landscape
12th April – 'Odin, Odin, send the wind to turn the tide – A cover featuring a longboat
19th April – 'It was the best of times, it was the worst of times – A cover featuring a school

12 March 2015
Filed under Book Reviews
Tags: Dreamer's Pool, Juliet Marillier

29 responses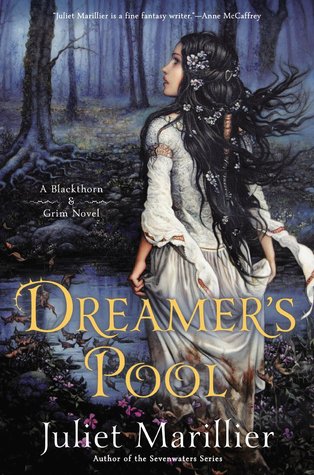 Look, far be it from me to tell you to read a book – but just read this book, pretty please.  I'm not going to beg – okay, I will, please, please, please read this book.  That should probably give a slight hint as to my feelings for this story.  It was great, it was enchanting, it put a spell on me which I couldn't break until I'd completely finished reading – literally in virtually one day!
In a nutshell (a little acorn maybe) the story is about a woman, wrongfully imprisoned who accepts help from the most unexpected source.  Blackthorn, as she will become known, is a wise woman and healer.  She has been incarcerated in a miserable, filthy prison for too long, the only thing sustaining her the dreams she has of bringing down revenge on the head of the man who destroyed her life.
The story gets off to an immediate start as Blackthorn finds out that she is to be murdered rather than given the opportunity to air her tale.  At the same time, she receives a visitor, Conmael, a member of the fae who has an unusual proposition in which Blackthorn will give up her desire for revenge, will live a life of good far away from this place and provide help to all those who ask.  In return he will save her life and see to her escape.  And so a pact is made, of course, a pact with a member of the fae is not to be taken lightly.  The terms between Conmael and Blackthorn will remain intact for seven years.  If the terms are breached, a year will be added for every time the pact is broken.
And so Blackthorn escapes into the night.  Followed closely by a giant of a man, and former prisoner called Grim.  The two will find themselves travelling to the land of Dalriada where their services will soon become in great demand.
To be honest I don't really want to go into the plot.  It's just a magical explosion of gripping story told almost like an adult fairytale.  The writing is simply gorgeous and evocative.
The story is narrated in three different voices, Blackthorn, Grim and Prince Oran.  Crown Prince Oran of Dalraida has finally chosen a bride and although this is an arranged marriage the two have exchanged letters and seem to be perfectly well matched.  Most believe that Prince Oran is too sensitive, he cares about nature, he's respectful to people regardless of station or sex and he enjoys reading and poetry.  And yet, in spite of the doubts of some, his little neck of the woods seems to run smoothly, his people wish to work for him and work hard to please and the villages within his remit are pleasant places to live.  And then there's Dreamer's Wood.  One of the old places, on the edges of the realm, it has a mystical feel and walking under the dark canopy usually produces a feeling of being watched.  Nobody really enters the forest.  The 'others' are believed to dwell there and none will brave the unspoken menace.
Why did I love this so much.  It's difficult to pin down.  I wouldn't say I had any difficulty in second guessing certain elements of the plot and I'm sure that others would no doubt do the same.  But, there are a number of different strands to the tale and more than the actual main story, which seems to have turned into a mystery that Blackthorn and Grim will become involved in trying to solve on the Prince's behalf, there are little jaunts into side stories not to mention a number of occasions where we look back at Blackthorn's past.  I also really enjoyed the three main characters and alternating the chapters between them gave the story an added pace and a more rounded feel.
Blackthorn is a great character, twisted with anger and yet the chances she has been given have already started to have a positive effect.  We have Oran, the thinker – and in fact forward thinker given the way most nobles behave.  And Grim.  I loved this character.  He's a great hulk of a man with a quick temper that once roused is usually followed by a blinding flash of temper resulting in the use of fists – and yet he's afraid of the dark and has developed a strong devotion to Blackthorn.  Both of these characters are badly broken and yet in coming together they are forming a strange bond that is helping them to heal.
On top of this we have a setting straight out of a storytime read.  Castles, damsels in distress. Wicked nobles and scheming fae.  What's not to love!
I really loved this book.  I can't give it enough feels.  If you enjoy a story with beautiful writing, strong and intriguing characters, a fairytale setting and magical creatures then I think you will also enjoy this book.  Juliet Marillier definitely goes on my authors to be watched and auto bought (yep, I've got my beady eye on JM!)  And, given the way this book develops I'm expecting more instalments – at least six maybe???
What are you waiting for.  Get out of here and pick up a copy.
Other reviews:
And, if all that doesn't convince you then I just despair.  I do.  I'll just go dive into Dreamer's Pool!!!!

23 January 2015
Filed under Book Reviews
Tags: Django Wexler, Jen Williams, Juliet Marillier, Max Gladstone, New Books, Pierce Brown, Sarah Pinborough

21 responses
My books for the past week – which I'm just all so chuffed and happy about:
Django Wexler – The Shadow Throne – won this from Del Rey Books – I don't win a lot of books so I was a bit overly pleased to say the least!!!  Original recommendation to read this series from Mogsy at The Bibliosanctum for which my thanks 😀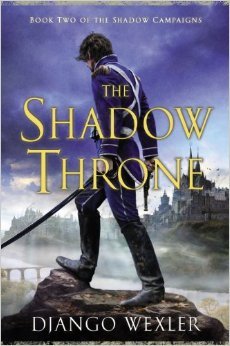 Arrived:
My copy of Max Gladstone's Three Parts Dead.  Recommendation for this came from Andrea at Little Red Reviewer – this blog comes with a warning – that you tbr will increase monumentally!
Received a copy of Golden Son by Pierce Brown from Hodder & Stoughton – very excited for this.  I actually started reading this series as part of an event surrounding the first book – Red Rising.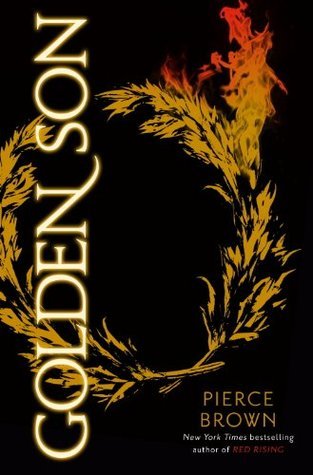 Netgalley:
Flex by Ferrett Steinmetz (brought to my attention by the lovely Lisa at Tenacious Reader)
Shadow Study by Maria Snyder – I have enjoyed Ms Snyder's works so wanted to pick this up
Canary by Duane Swierczynski
Bought
Pre-ordered Sarah Pinborough's The Death House – because I lurve SP – and I owe my love of SP's works to my BBB Jenny at Wondrous Reads
Bought Daughter of the Forest by Juliet Marillier (because it came highly recommended by Danya at Fine Print and she has some damn fine taste in books)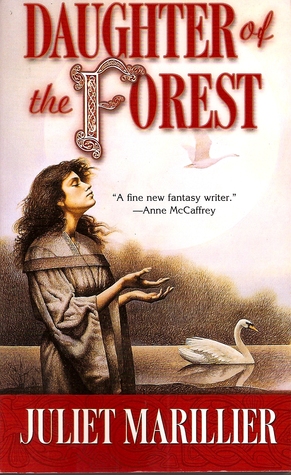 Pre-ordered Sorrow's Isle by Jen Williams – because her books are awesome sauce!