28 May 2015
Filed under Book Reviews
Tags: Backlist Burndown, Elizabeth Miles, Envy, Eternity, Fury, Mythology, OuaT

9 responses
Just finished reading Eternity by Elizabeth Miles which is the final instalment in the series about The Furies (the others being Fury and Envy).  Whilst I can't deny that I've had niggles with this series on the whole it has been entertaining.
The Furies were part of Greek and Roman mythology.  Three women, angry women I might add, deities who dole out vengeance – and at the moment they're alive and kicking in the town of Ascension.  Warning – if you haven't read the first two books then this review will undoubtedly contain spoilers.
The main character of the Story is Em, unfortunately she has become the target of the Furies following book No.1 and in fact has made a pact with them in order to save her childhood friend and secret love (JD – her next door neighbour).  Unfortunately Em didn't quite realise just how serious it is to make a pact with these ladies and her life is slowly spiralling out of control.  It seems that one of the Furies has designs to do something of a life swap and Em has only a short time frame to try to knock things off course.
I enjoyed the characters more in this story – that's perhaps because they're all actually afraid now.  In the first two books I can't deny that some of the characters were annoying occasionally but in no.3 it seems that everyone is finally afraid of what has been unleashed upon them and instead of wondering if their best friend's boyfriend is trying to catch their eye or if they have the best lip gloss they're now a bit more anxious about staying alive.
The stories are set in Ascension – an everyday town in Maine – where things are currently rushing to the conclusion.  Em trying to find a way to banish the Furies back to wherever they came from, JD trying to find what Em is hiding and Crowe – the tortured, talented and mysterious musician (who also happens to be rather fond of Em – and also has prophetic tendencies) trying to make sense of his visions.
In terms of criticisms.  Well, the ending I felt was a little rushed but that could be just me and endings.  I couldn't help thinking that people spend a lot of time running around and agreeing to meet to sort things out and yet as soon as they actually got together they ultimately bickered and left again – it just somehow gave a feeling of very little ever being achieved.  And, yes, in the grand scheme of things I still can't help thinking that the Furies could better spend their time and attention rather than on a bunch of teenagers whose worst misdemeanour is sleeping with somebody else's boyfriend or wanting to be part of the in crowd.
However, in spite of criticisms I thought this was a good conclusion.  Miles has a really lovely writing style and is very good at writing to give you the chills on the back of your neck and she has plenty of scope to go at that with the Furies!
On the whole this was a satisfying ending to the series.
I'm submitting this to Stainless Steel Droppings Once Upon a Time Event.
I'm also including it as a backlist burndown book over at Tenacious Reader and an end of series – triple win!

1 March 2015
Filed under Book Reviews
Tags: Backlist Burndown, Charles Portis, tenacious reader, True Grit, Western

15 responses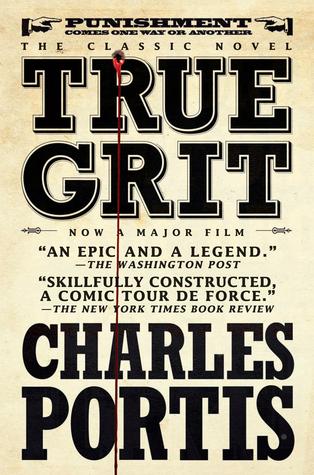 Just finished reading True Grit which is one of those stories that I've wanted to read for ages and in fact had sitting by the side of my bed for about 3 or 4 years! Recommended by a good friend.  In truth I don't read a lot of western type stories and yet the few I have read I've enjoyed and True Grit is no exception.  It's just an incredibly good story, a bit of a coming of age tale really, told in retrospect by a woman called Mattie Ross.
I'm going to give you an example of the first few sentences which give you an idea of what Mattie is really like:
"People do not give it credence that a fourteen-year-old girl could leave home and go off in the wintertime to avenge her father's blood but it did not seem so strange then, although I will say it did not happen every day. I was just fourteen years of age when a coward going by the name Tom Chaney shot my father down in Fort Smith, Arkansas, and robbed him of his life and his horse and $150 in cash money plus two California gold pieces that he carried in his trouser band."
For me, that snapshot gives a really good idea of the writing style and the character that you will be introduced to with Mattie.  It also pretty much sums up the story which is about Mattie finding her father's killer, with the help of a US Marshall called Rooster Cogburn.
I'm not going to go further into the story because there are plenty of very excellent reviews already out there and on top of that the book has been successfully adapted to the big screen twice so I'm sure most people will already have an idea.
What made this book so enjoyable for me was a combination of plain, economic and yet effective writing, excellent characterisation and effortless world building that brings to life this strange and austere world coupled with very sharp dialogue that brings a certain comedic element in to play.
Now you might be thinking that with a 14 year old main protagonist this isn't for you but Mattie is an intelligent girl who knows her own mind.  She's not stubborn – she just knows what she wants to achieve and systematically goes about making it happen.  She's not an emotional character at all and I think I really liked that about although in fact it did puzzle me at first, particularly how well she took the murder of her own father, but then the other thing with this story is it is being told by Mattie some considerable number of years later and so I suppose it's easier to relate the story in a methodical and unsentimental manner.  Whatever the case may happen to be, I really liked the narration and think Portis does a fantastic job of bringing this western to life.
Without a doubt Mattie and Cogburn steal the show.  A detached 14 year old with a sharp tongue and an old curmudgeonly, drunken Marshall who would sooner shoot first and ask questions later.  And, it's not just that these two are such good characters but it's also the strange bond that they seem to develop.  Of course the story has other characters thrown in for good measure such as Chaney and Lucky Ned Pepper, plus LeBoeuf, the Texas ranger who is bounty hunting Chaney and manages to join up with Cogburn in the search.
I have to admit that if all westerns are this good I really could become quite addicted!
I would certainly recommend this and also, if you like what you read, you might also want to give Patrick DeWitt's Sisters Brothers a look at.  All that remains to be said is:
"Fill your hand you son of a bitch"
As this is a book I've taken from my tbr I'm adding this to my Backlist Burndown – which you can check out over at Tenacious Reader. (I'm a little late – should really have posted yesterday!)
Oh, and for the record – I really liked the John Wayne version of Rooster – nothing wrong with Bridge's version of course but that's my opinion.