True Grit by Charles Portis

1 March 2015
Filed under Book Reviews
Tags: Backlist Burndown, Charles Portis, tenacious reader, True Grit, Western

15 responses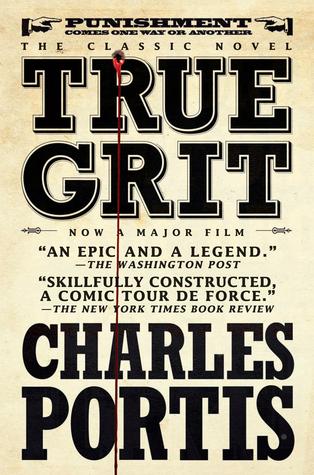 Just finished reading True Grit which is one of those stories that I've wanted to read for ages and in fact had sitting by the side of my bed for about 3 or 4 years! Recommended by a good friend.  In truth I don't read a lot of western type stories and yet the few I have read I've enjoyed and True Grit is no exception.  It's just an incredibly good story, a bit of a coming of age tale really, told in retrospect by a woman called Mattie Ross.
I'm going to give you an example of the first few sentences which give you an idea of what Mattie is really like:
"People do not give it credence that a fourteen-year-old girl could leave home and go off in the wintertime to avenge her father's blood but it did not seem so strange then, although I will say it did not happen every day. I was just fourteen years of age when a coward going by the name Tom Chaney shot my father down in Fort Smith, Arkansas, and robbed him of his life and his horse and $150 in cash money plus two California gold pieces that he carried in his trouser band."
For me, that snapshot gives a really good idea of the writing style and the character that you will be introduced to with Mattie.  It also pretty much sums up the story which is about Mattie finding her father's killer, with the help of a US Marshall called Rooster Cogburn.
I'm not going to go further into the story because there are plenty of very excellent reviews already out there and on top of that the book has been successfully adapted to the big screen twice so I'm sure most people will already have an idea.
What made this book so enjoyable for me was a combination of plain, economic and yet effective writing, excellent characterisation and effortless world building that brings to life this strange and austere world coupled with very sharp dialogue that brings a certain comedic element in to play.
Now you might be thinking that with a 14 year old main protagonist this isn't for you but Mattie is an intelligent girl who knows her own mind.  She's not stubborn – she just knows what she wants to achieve and systematically goes about making it happen.  She's not an emotional character at all and I think I really liked that about although in fact it did puzzle me at first, particularly how well she took the murder of her own father, but then the other thing with this story is it is being told by Mattie some considerable number of years later and so I suppose it's easier to relate the story in a methodical and unsentimental manner.  Whatever the case may happen to be, I really liked the narration and think Portis does a fantastic job of bringing this western to life.
Without a doubt Mattie and Cogburn steal the show.  A detached 14 year old with a sharp tongue and an old curmudgeonly, drunken Marshall who would sooner shoot first and ask questions later.  And, it's not just that these two are such good characters but it's also the strange bond that they seem to develop.  Of course the story has other characters thrown in for good measure such as Chaney and Lucky Ned Pepper, plus LeBoeuf, the Texas ranger who is bounty hunting Chaney and manages to join up with Cogburn in the search.
I have to admit that if all westerns are this good I really could become quite addicted!
I would certainly recommend this and also, if you like what you read, you might also want to give Patrick DeWitt's Sisters Brothers a look at.  All that remains to be said is:
"Fill your hand you son of a bitch"
As this is a book I've taken from my tbr I'm adding this to my Backlist Burndown – which you can check out over at Tenacious Reader. (I'm a little late – should really have posted yesterday!)
Oh, and for the record – I really liked the John Wayne version of Rooster – nothing wrong with Bridge's version of course but that's my opinion.