3 February 2015
Filed under Book Reviews
Tags: Classics Club, Classics from the year 2000 onwards, Mark Lawrence, The Broken Empire

12 responses
This month at the Classics Club the monthly question is:
What about modern classics? Pick a book published since 2000 and say why you think it will be considered as a "classic" in the future.
This is a tough question because I have a number of books that I could think of in terms of future classics.  So, it was undoubtedly a question that provoked a bit of turmoil for me!  And, I think my choice may seem irregular being a grimdark fantasy series – however, fantasy has a large place in the classics and this is one of the ways that it's being revamped giving it a darker edge and more modern feel.  I'm not going to go into a deep and meaningful essay here – I've given my points in brief and I've chosen a recent fantasy trilogy that I really enjoyed – let me know what you'd choose please!
I'm going to go for the Broken Empire by Mark Lawrence (Prince, King and Emperor of Thorns).  Below is my reasoning:
Firstly, and most importantly, I loved this series.
I had a number of candidates for this.  I love The Name of the Wind and Wise Man's Fear, for example, and think they will definitely become classics, however, the Patrick Rothfuss series isn't finished yet so I don't think I can reasonably put it forward – and in this respect the same goes for The Stormlight series by Brandon Sanderson and The Gentleman Bastards by Scott Lynch.  I'm sure they'll ALL be classics but they are as yet unfinished.
Three is a lucky number – three books in this series and three books in Lord of the Rings!!   You just have to love a trilogy. Yes?
New to me – grimdark is relatively new to me and I would say Mark Lawrence was my first introduction.  Another reason for me feeling all the love for this series.  Now, I realise that there are other series written in a similar style, but, like I said this is the first for me.
I like the way that Jorg grows up as the series progresses.  I also like the style of jumping back in time to see some of his earlier memories.  You might think this would take you out of the story but it's actually a great way to find out his back story without a huge info dump or writing the story in a more traditional timeline style.
It's very well thought through in such a way that when you reach certain stretches of the story and things are revealed they definitely have the 'wow' factor.
Jorg – I do like this character.  Okay, he's not your typical hero – in fact he's all anti-hero.  But you will end up in his corner.
I think there's a fine line between too much detail and not enough.  Now, I love Tolkien but some people think he's overly descriptive (not I).  I think the Broken Empire succeeds in a good balance between character development, plot and world building.  It's easy to imagine the setting and the places which all seem very familiar but with a twist.
The three books in the series have been on mine (and plenty of others) 'best of' lists come the end of the year.  I like all three books.  There was no 'middle book' syndrome.  In fact, I would say that the books got progressively better!
It's the classic Good vs Evil – I mean, you wouldn't necessarily call Jorg 'good' but in terms of this story he's definitely the lesser of two evils!
I would reread this – if and when I ever got the time! And I think that's a good indication of a book's real worth – if you're prepared to reread it!
I think it would also make a very good readalong for people who want to have more detailed discussion because there's no shortage of things to talk about!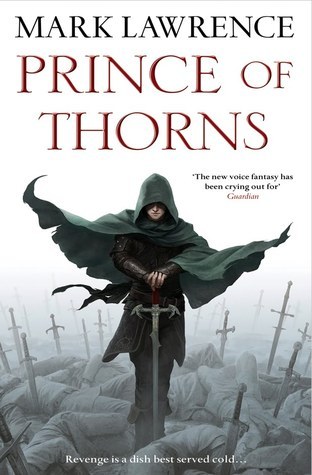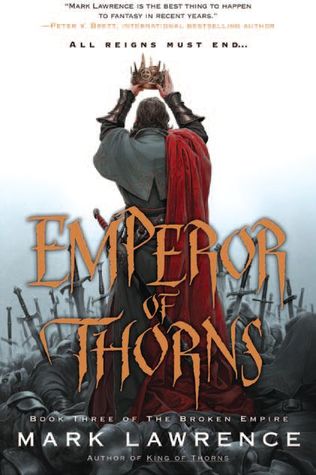 So, what would your choice be???

7 October 2014
Filed under Book Reviews
Tags: Frayed Empire, No.1, Stainless Steel Droppings RIP, Teresa Frohock, The Broken Empire

5 responses
Just finished reading The Broken Road by Teresa Frohock which is a cunning novella in that it manages to combine urban fantasy and horror and bring to the fore two completely different and fascinating landscapes.  I loved the idea of this, it just seems to turn things on their head and not follow convention at all.
We start the story in a fairly easy to imagine fantasy setting, a sort of mediaeval faux France if you will, where a Prince and his friend have come upon an effigy of a dead God (resurrected by the low born) and is the scene of a fairly recent sacrifice.  This is the first portent of trouble to come. Travys is the young prince and in a world where a person's voice is the conduit of magic he is greatly disadvantaged to say the least by being born mute.  The Chanteuse noble born are gifted with magic which they use to keep strong the threads that separate the land of Lebhet from that of Heled.  The nobles, however, have become spoilt and lazy spending their time behind the walls of the Palace.  They've become vain and deceitful and petty rivalries and court politics have taken a front seat whilst the protection of the people they rule takes a poor second place.  Meanwhile the woods and forests become the home to monsters who lurk in the dark as the threads weaken.
Now, this is a difficult book to write a review for because it's only fairly short – a novella at just over 100 pages (I think??) so basically it would be really quite easy to spoil the plot for other readers.  Basically, Travys is going to have a little bit of a rude awakening in a very dramatic fashion.  He will become only too aware of the potential threat posed to his home and in order to do anything at all to prevent this trouble he's going to have to put himself in the very heart of the last place he wants to be – Heled.
So, instead of ruining the plot, and the surprise that is involved in discovering Heled, I'm going to focus on other elements of the book.  We have a simple but intriguing magical system that is not only quite unique but also helps you to gain a better understanding of Travys – simply in that he's always had to struggle against the odds and use his own creativity in order to keep his tenuous foothold and survive in this duplicitous society.  Oh, also, did I mention that Travys has a twin brother – a brother who is more powerful with a rich and varied voice and his own 'set' of supporting nobles?
In terms of pacing we kick off to an immediate start and from there the story moves forward at a rapid pace.  I admit that I was hooked and read this almost in one sitting as I was desperate to know what was going on.  I certainly didn't succeed in second guessing anything and I admit I was very surprised when we finally got to read about Heled.
On top of that Frohock has a beautiful narrative voice which paints vivid pictures of the landscape upon the imagination and then fills them with chilling scenes from a nightmare of horrors.  Nothing bloodthirsty or dripping in gore – just plain goosebump-invoking chilling.
Where criticisms are involved I only have one and I don't think I'll be alone in this sentiment – this book could definitely have been longer.  And, literally, I mean that in the nicest possible way and not as a critic of short stories or novellas.  There is just so much to be explored here that I feel that the number of pages could have been doubled and would still have felt short!  Yes, I wanted more but more than that this particular story could support it.  As it is I feel like I've had a snapshot into Travy's world and whilst I don't particularly want to join him in Heled (even if I get to carry a flamethrower) I will gladly take a few more glimpses – which, given that the Broken Road is also No.1 of the Frayed Empire seems highly likely!.
A bold and unconventional novel – plus just take a look at this cover if you like a bit of deliciously creepy!
I'm submitting this as one of my reads for RIP over at Stainless Steel Droppings.  Check out the details here.