4 November 2015
Filed under Book Reviews
Tags: Breaking the Spine, Maria V Snyder, Night Study, Soulfinders, Waiting on Wednesday

13 responses
"Waiting On Wednesday" is a weekly meme hosted by Breaking the Spine.  Every Wednesday we get to highlight a book that we're really looking forward to.  My book this week is No.2 in the Soulfinders series by Maria V Snyder: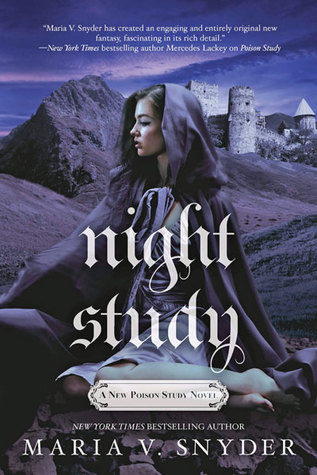 Ever since being kidnapped from the Illiais Jungle as a child, Yelena Zaltana's has been fraught with peril. But the recent loss of her Soulfinding abilities has endangered her more than ever before. As she desperately searches for a way to reclaim her magic, her enemies are closing in, and neither Ixia nor Sitia are safe for her anymore. Especially since the growing discord between the two countries and the possibility of a war threatens everything Yelena holds dear.
Valek is determined to protect Yelena, but he's quickly running out of options. The Commander suspects that his loyalties are divided, and he's been keeping secrets from Valek…secrets that put him, Yelena and all their friends in terrible danger. As they uncover the various layers of the Commander's mysterious plans, they realize it's far more sinister that they could have ever imagined.
Due for publication January 2016 – so not a long wait for more Yelena and Valek.

13 February 2015
Filed under Book Reviews
Tags: Maria V Snyder, Shadow Study

12 responses
Recently finished reading Shadow Study by Maria Snyder.  Firstly, I have read all the other works in this world (I think I have anyway!) and so in that respect this is a very easy book for me to fall into as I already know the world, enjoy the stories and care about the characters.  That being said I think you could certainly read each series as individually with no problem whatsoever.  The starting point for the whole world – is Poison Study.
The story starts by getting back to basics with a meeting, albeit brief, between Yelena and Valek.  Unfortunately things go horribly wrong (even before the two meet for their romantic interlude).  Basically, and hopefully this isn't a spoiler, Yelena is attacked and this has a drastic affect on her magical abilities. This is a frightening thing for Yelena, she has many enemies and is now completely vulnerable.
This isn't the only thread of the story though – bigger things are taking place beneath the surface and Snyder leads us through the political quagmire as we try to determine what is actually going on here.
In terms of the characters we have all the old familiars.  Yelena and Valek – although only spending a very brief period together, both narrate passages and it was nice to get back to the two original characters (who have spent more time on the back seat recently).  I really enjoyed hearing more from Valek and it was particularly interesting to get some of his back story.  Yelena's brother also plays a part as do Ari and Janco – a sort of lovable double act who usually rush into a situation like a pair of maniacs.
The plot does suck you in.  It's intriguing and kind of tense (the cliffhanger chapter endings add to this!)  We flit between Yelena and Valek's world and the way that they are both torn between their commitments and their love for each other.
I would class this as YA – even though Yelena is about 27 now, it has a YA feel but in a good way.  There is no strong language, no sex or violence.  Its not dark or foreboding – in fact, yes, it's an easy to read enjoyable book – my equivalent to a holiday read which is quite appropriate as I was on holiday when I read this!  For me, it was a very easy book to fall into and revisit old friends and places.
The author is very good at making you feel not only for the characters but for the relationships they develop and she's very good at building a network between them all that feels real.  It will be interesting to see how this all pans out – it's already leading a certain way but I won't say more on that account.
Outside the relationships there are other threads to explore, particularly around the Commander.  Like I said above, it was interesting to get Valek's back story on this particular dynamic and how that shines a different light on the relationship.
I can't deny that this is a light, fantasy read and whilst that might seem like poor praise I will reinforce that by saying I enjoy Ms Snyder's books – I think they're probably a great introduction to fantasy and they definitely keep you coming back for more.  They're the very opposite to grimdark – which I also enjoy!  For me, they're no-brainers and fun – so judge me!  Seriously, not sure how well or not this would go down with people new to the series but for me it just feels like a brief visit with old friends.  If you want a light introduction to fantasy then Ms Snyder could be exactly the right author for you!
I received a copy of this from the publishers via Netgalley for which my thanks.  The above is my own opinion.

4 March 2012
Filed under Book Reviews
Tags: Maria V Snyder, Touch of Magic, Touch of power

2 responses
Just finished reading Touch of Power by Maria Snyder which introduces us to a new world and characters.   Touch of Power introduces us to the Fifteen Realms and brings to us Avry, raised in Kazan and a healer.  Just as Kazan was once prosperous, healers were once greatly revered but the plague changed all of that.  The disease ravaged the fifteen realms claiming many victims and was swiftly following by a rumour that the healers had in fact been the culprits for its start.  The Realms are now greatly depleted in terms of inhabitants and are also torn with war as the remaining power bases struggle to come out as top dog.
Avry has spent the last three years stealing from one town to the next, trying to hide her abilities and usually failing as she feels compelled to help some desperately ill person.  This is actually how the book starts, a healing, swiftly followed by Avry's capture and pending execution and then her rescue by a band of characters who have a different scheme in mind. Ironicially it appears as though Healer may be the only healer now remaining since their persecution and so her fortune seems to be changing in that she's suddenly become a desirable asset to have.
I enjoy Maria Snyder's writing.  She once again brings us a new world filled with a range of different characters, landscapes and magical possibilities.  The reading is easy, fairly fast paced and not filled with huge chunks of overly descriptive world building or back history.  The characters are well written and you gradually learn about them as the story progresses.  There's a lot of imagination going on here and plenty more to discover in the future series which this one plays in to quite nicely.  We have many magical abilities – I think about 15? although we're only introduced to about four here.  Obviously we learn a good deal about Avry's ability to heal which basically lends her the power to take on a person's illness or injury which she can recover from at a greatly increased pace.  Coupled with this ability is the strange phenomenon of the Lilys – plants that seem to be carnivorous and filled with deadly venom.  Well, there are two types of Lily, Peace and Death and Avry seems to have some sort of connection which remains to be explored.
I liked the characters –  the 'baddie' is a royal pain – patronising and a bit sadistic.  We have Kerrick who you can't help liking, he's also a mage, connected to the earth and forest and able to blend into the plants and trees.  Apparently he smells like fresh cut grass and sunshine and in spite of his grumpy demeanour you can't help knowing that he's a bit gorgeous and you also just know that the two of them will become romantically linked.  What I like about the romance is it's a slow burner.  Certainly not love at first sight!
If I was going to level any criticisms I would say that this book will probably feel very 'familiar' to fans of the Study series.  The world is very similar, the landscape and even the fact that there are magical abilities.  The other thing is that maybe MS needs to get a bit more hardened to letting some of her characters go – particularly looking at some of the circumstances and overwhelming odds that they sometimes face.  It would make it more realistic.  In actual fact we do lose one of the characters from this story but I think if you were to look critically you would say that it was obvious.  It's not that I particularly like to lose characters that I've become attached to just that sometimes it feels improbable given the situations they find themselves in.  I suppose it helps having a healer in the midst of the pack who can help them to recover from any injuries sustained, but still…
Anyway, I really liked joining Avry and Kerrick and will look forward to picking up their story in the next instalment.
« Previous Page