7 March 2017
Filed under Book Reviews
Tags: AFE Smith, Darkhaven #3, Windsinger

10 responses
Windsinger is the third instalment in a highly entertaining series that has gone from strength to strength.  I won't elaborate too much from the previous two books but Smith has gradually developed a comprehensive world filled with politics and magical creatures that together prove to be a compelling combination.  Each of the books has a murder mystery element to the story and Windsinger is no exception with a story that fairly quickly becomes a race against time.  Please be aware that spoilers for the first two books in series may be lurking below.
Mirrorvale is an unusual country.  Nestled in between two more powerful countries the only thing that really keeps the wolves from the door is the Nightshade family whose powerful shapeshifting abilities take on many forms.  The family line is greatly diminished however and with only one shapeshifter currently in situ Mirrorvale sits on a knife edge.  Unsurprisingly Ayla has a strong inclination to form a peace treaty and as the book begins preparations are being made to receive the Kardise ambassador.  Ayla, being keen to show willing and offer the hand of friendship shrugs off the usual protocols and meets the Ambassador alone for informal discussion over a glass of the famous Taransey liquor produced in Mirrorvale.  All goes well and by the end of the evening the promise of  a treaty between the two countries is a real possibility, that is until the Ambassador turns up dead the following morning, clearly poisoned the evening before and with Ayla herself having poured the drinks herself.  Things suddenly take a turn for the worse and contrary to peace it now seems that war between Mirrorvale and Sol Kardis seems highly probable.
What did I enjoy about Mirrorvale?  Well, yet again the author manages to progress the characters and the world building heaping further layers upon those already established in books 1 and 2.  There are plenty of different threads here and an element of intrigue with a much more sinister plot underlying the whole thing.  Of course I don't want to give too much away so I won't say more about that aspect but what I really enjoyed this time round was not only that the horizons of the story branch further afield and take a look at the politics surrounding the tentative peace that exists but we also get to really see Ayla in action and it's very impressive!  In fact having finally seen Ayla make use of her true abilities it's easy to see why the Nightshade threat was so very real and kept the threat of invasion from becoming a reality.  Don't get me wrong – Ayla has her limitations – and her enemies are becoming all too aware of that fact – but she's still a rather spectacular beast in her shapeshifter form.
In terms of the characters we again see much more firmly established relationships.  Ayla and her husband are happy.  They're married and now have children but that doesn't stop them worrying, in fact, lets face it, it probably increases the worry.  Tomas remains ever vigilant and still charges around the place trying to single handedly second guess every possible threat and he realises only too well that he can't be everywhere but he also finally understands that he has other people surrounding him who he can rely on and trust – and, as difficult as it may be to admit it, he also has to trust Ayla to be who she needs to be in the face of danger.  One of the people that Tomas relies heavily upon is the mercenary Sorrow.  Sorrow finds herself in the strange position of caring about other people – primarily her partner Elisse and Elisse's son Corus – and not surprisingly this is bringing out a, maybe not so much a soft and fluffy side, let's say a more thoughtful and more easy to persuade side to her nature – I'm thinking the Terminator from the second movie rather than the first (not that I'm saying Sorrow is anything like a robot – to be clear – just that although she's very single minded she can be reasoned with).   I just love this character and could read more of her – she's just refreshingly honest, a bit abrupt and totally no nonsense.  Ayla, is still aloof, but I think I finally understood the necessity for her being so – especially when she finds herself on the war front commanding an army and watching people die!
It's difficult to write too much more without really spoiling the plot.  There is a strong intrigue running through this story and one that threatens Mirrorvale in the worst possible way.  I don't want to spoil that for other readers so my lips are sealed.  Other than to say that this is another fast paced, well written story with plenty going on to keep the reader entertained and with characters that I've really become attached to.  Well done Ms Smith for yet another very firm instalment to this series.
I received a copy courtesy of the publisher through Netgalley for which my thanks.  The above is my own opinion.

25 January 2017
Filed under Book Reviews
Tags: AFE Smith, The Darkhaven Novels, Windsinger

9 responses
"Waiting On Wednesday" is a weekly meme created by Breaking the Spine.  Every Wednesday we get to highlight a book that we're really looking forward to.  My book this week is : Windsinger by AFE Smith, The Darkhaven Novels (3) 
The third instalment in the Darkhaven series.
Ayla Nightshade prepares to meet with the Kardise ambassador to sign a treaty between Mirrorvale and Sol Kardis. However, negotiations are halted as the ambassador is discovered dead in his chambers, poisoned by the same bottle of taransey he and Ayla had shared the night before.
Ayla has been framed for murder and the peace between two kingdoms is at stake. Tomas Caraway and his Helmsman must rush to prove her innocence before war destroys all they have fought for.
Along the way they discover the plans for a Parovian airship, the Windsinger, which reveal a chamber designed for a special cargo: a living one.
Together Ayla and Tomas set out to uncover their real enemies – a search that will lead them closer to home than they ever anticipated.
Due out February 2017

25 June 2015
Filed under Book Reviews
Tags: AFE Smith, Darkhaven

8 responses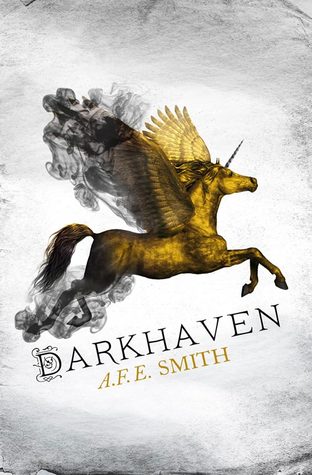 Just finished reading Darkhaven and what a very enjoyable start to series this is. (at least I think or hope it's a series?)
We start off with Ayla escaping from captivity with the help of her brother Myrren.  From there we learn that Darkhaven is ruled by the Nightshades, people with the ability to shapeshift, known as Changers.  The ruler of Darkhaven, Florentyne, is a Firedrake, the other forms taken by the purebloods are Griffin, Phoenix, Hydra or Unicorn.  Florentyne is not a man to be messed with, ruthless and dark, he will stop at nothing to ensure the continuation of the Nightshade line.  Unfortunately his son and heir, a trueblood, has manifested no ability to shift.  His daughter however, born to a regular human during a second marriage can shift but not in a pure form.  Ayla is not popular, not with her father, or the Helm, the body of training guards who are sworn to protect the Nightshades.
Florentyne has made the decision to disinherit his son and place Ayla as his heir.  Of course, she's got something to say about that and consequently her father places her into captivity.  And, that brings us back to the start of the story with Ayla's escape and the beginning of all the trouble as on the same night her father is murdered – by a charger.  Ayla is the only other charger so she's the number one suspect.  From here we have a situation where Alya, having escaped to one of the lower rings of the city and secured the help of a former guard, now needs to clear her name.  Meanwhile Myrren, also convinced of his sister's innocence is also looking for evidence to prove her innocence assisted by a priestess who has been attacked by this murdering charger and may have additional information.  Now, what makes this tricky is that the Helm are convinced of Ayla's guilt, they're not really too bothered about evidence, and they're also looking for her.
I'm not going to go on about the world building because we only really see Darkhaven – which is dark – with good reason.  The City is split into rings, all planned as means of defence in times of siege.  I have no real idea about the shifters history, why they're in control – I mean, obviously there used to be more of them, a lot more, and in their charger form they're almost entirely invincible – almost, entirely!  For some reason, there are a lot, lot less now – again, at this point, not sure why – and I'm not sure that it matters to the story to be honest.  Although it does lead to some rather nasty realisations about what exactly needs to take place to ensure the survival of the remaining shifters – yeah!
Characters.  Ayla and Myrren are the Nightshades.  They are assisted by Tomas, former Helm guard who is now living in disgrace, and Serenna, the Priestess who is assisting Myrren.  We also follow the course of one of the helm guards who has his own personal mission and a secret character who has a protector – an assassin/sellsword called Sorrow.
The action and the story are pretty gripping.  I think the author manages to keep the tension concerning the actual identify of the murderer in debate for a large portion of the story.  I had my own thoughts on where the story was going but admit that the story was written in a way to keep more than one possibility alive and kicking.
In terms of criticisms.  Well, Alya was one of my first thoughts in that respect.  I don't dislike her as a character particularly, but, I'm puzzled.  She has the ability to change into this really cool creature and yet she spends the majority of the book either shut in a room hiding or being taken captive or just running away.  She really doesn't have much about her in that respect.  She changes into her other form only twice in the book and never to actually evade capture or protect herself.  I was just puzzled by her really.  She seems to have no real chance of looking after herself at all. Merryn on the other hand has no shifting ability but he's clever, quick witted and greatly skilled with a blade.  Then we have Sorrow – an infamous assassin and sellsword – who frankly falls at the first hurdle!
I didn't feel like we had enough time seeing or finding out about the shifters or seeing their other forms – but then this is the first book so there is room for more exploration.  And, I felt the relationships – and the ending – were a tad rushed not to mention bittersweet.
And yet, in spite of my criticisms this was a very engaging read that I really enjoyed and it ended on a perfect set up for the next book.
I received a copy of this from the publisher through Netgalley for which my thanks.  The above is my own opinion.