Time Salvager by Wesley Chu

10 July 2015
Filed under Book Reviews
Tags: Time Salvager, Wesley Chu

14 responses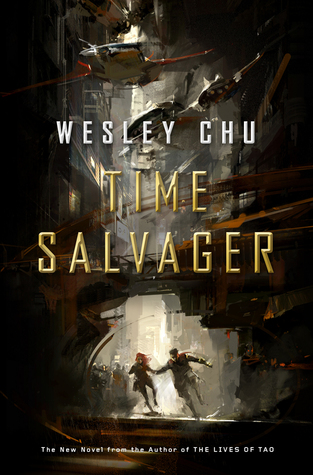 Just finished reading Time Salvager by Wesley Chu which kicks off what promises to be a very good series.
Set in a future where time travel has become possible you would imagine the world would be a bright and shiny place, high tech and advanced.  You'd be mainly wrong of course.  The planet earth has become little short of a wasteland, so toxic and covered with sludge that most people have abandoned it and sought out life elsewhere in the solar system.
Time travel is a dangerous job, jumping back in time is not exactly conducive to good health and added to that is the psychological impact. There are a whole bunch of rules for jumping back in time which I'm not going to go into!  You'll just have to take my word for it when I say that Chu has managed to write this in a very accessible and clever way.  I'm not going to say that you couldn't pick holes in it if you really wanted to because I have no idea if you can or not – I simply didn't try.  I just read it and accepted the whole ethos behind Chu's set up.  Maybe I'm just easily pleased but I decided to pay more attention to the story than the whole mechanics of it.  After all the area of time travel can easily become fraught with 'what ifs' so I figured if I'm going to suspend my disbelief enough in the first place to read a story about jumping back and forth through time then I might just as well go the whole hog and believe the how's and why's that the author gives me. Simples.
Our main protagonist James is a Chronman (a time jumper).  He's a bit jaded to say the least which isn't really a surprise when you spend most of your time travelling back to times when massive disasters are taking place and people are dying around you while you just pop in and out and take whatever it is you've been sent to retrieve.  It weighs on a person's mind.  The most important rule is nobody from the past gets brought back.  Nobody has ever broken that rule until James, bogged down by his own ghosts, takes sympathy on a scientist called Elise who has caught his attention whilst on his latest mission and in a moment of weakness he takes her with him.  Of course, this isn't something that can be hidden and the authorities who govern time travel are immediately onto him.  Now fugitives, James and Elise have to evade capture and try to stay under the radar and this is where they discover not only new allies but also the potential for a cure and possible hope for a brighter future?
I thought this was a really good read to be honest. It has a very dark feel to it which isn't really surprising.  James is a jaded character haunted by the ghosts of all those people he's had to watch die before his eyes.  The world really holds no appeal for him and he longs for a time when he can just get out from this job.  On top of that the world in which he lives is also miserable and seedy and the other inhabitants suitably repressed.  Yes, there is a whole feel of doom and gloom but it's fitting for this part of the story.  Chu manages to make you feel the lethargy and you almost become annoyed reading at the way people have simply lost hope and no longer seem to have an inner spark.  Then, we have Elise, who unexpectedly becomes part of James world.  Being from a different era she manages to bring with her a little ray of sunshine and hope into this world.  She simply hasn't given up yet and she still cares enough about the world and the people on it to try and make a difference.
The Characters.  Well, in spite of James hardboiled and prickly exterior I quite liked him as a character and found the interaction between himself and Elise interesting.  I think watching his development is going to be very intriguing. Chu has a way of writing characters and relationships that give them time to become meaningful.  He doesn't rush them but allows them to grow and adapt so that you actually feel yourself starting to care about them.  Now enter the scene Levin.  Levin is an auditor and he's been given the task to find James.  I kind of felt sorry for Levin to be honest.  He's one of those characters that really needs to get a life!  He's just so bogged down by rules and playing everything by the book that he's become almost inhuman.  His adherence to the rule book and failure to see things other than black and white means he basically spends a very lonely existence as people simply don't like him.  Again, i think it will be interesting to see how he adapts.  My favourite character so far though has to be Grace.  I just couldn't help liking her.  She's like this 93 year old 'mother of time' sassy, argumentative character.  She definitely brought a little something more to the story and much like Elise hasn't been bogged down by the present world's dire predicament.
The setting is very well done.  We have the grime and filth of the city where people shuffle around aimlessly trying to eek out a living.  From there we move out to the 'wilds' as James and Elise try to evade capture.  The landscape then becomes quite a contrast and is vividly imagined.  We actually come across areas that don't seem to have completely fallen into despair yet and groups of people who are still willing to commit to each other.
On the whole I thought this was a really good read and I'm looking forward to seeing where Chu goes next.  And after reading the Tao stories I think that what we can expect from this author is the unexpected.
I received a copy of this from the publishers through Netgalley for which my thanks.  The above is my own opinion.