When We Were Animals by Joshua Gaylord

19 April 2015
Filed under Book Reviews
Tags: Joshua Gaylord, When We Were Animals

20 responses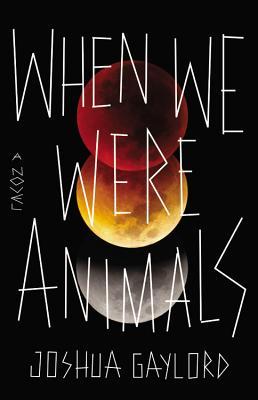 Just finished reading When We Were Animals by Joshua Gaylord.  I really enjoyed this.  It's something of a coming of age tale with very dark undertones.  It simply drew me in and kept me fascinated for the entire journey.  Frankly, this was unlike any coming of age story I've read before provoking all kinds of thoughts and notions as I read along.
The story is narrated by Lumen, a mother and wife now living quietly in American suburbia.  She takes us back to her childhood town, Pale Miranda, a strange place where the moon holds sway over the teenagers.  This isn't perhaps quite as it seems – this isn't a supernatural story where the teenagers become werewolves but more a story that looks at children going through puberty into adulthood and in the process allowing their most basic desires to run wild.  I like the take on the supernatural theme with the moon holding sway and truly bringing out the monsters from these otherwise regular teenagers.
Lumen has been brought up by her father, her mother having died when she was but a baby.  They have a close relationship and Lumen is practically the perfect daughter.  She's a model student, never home late and excels at most everything.  In terms of developing maturity however Lumen is definitely way behind and gradually all her friends and schoolmates fall under the 'breach' as they mature.  Lumen is convinced, in fact almost determined, that she won't fall foul of the breach but the simple facts are that once the breach grips you it won't be denied.
This isn't one of those books where there seems to be masses of action and yet it totally gripped me, I couldn't turn the pages fast enough.  I was fascinated by what was taking place and equally mesmerised by the writing style.
In terms of characterisation there's plenty to focus on and numerous different relationships that find their own moment in the spotlight.  We have the relationship between Lumen and her father.  It's plain to see that Lumen's dad has never really got over the death of his wife and is still held in a state of thrall even after all these years.  I thought it was interesting seeing the relationship change as he realises Lumen is becoming an adult.  There's this developing awkwardness between the two as he finds it more difficult to cope with the fact that his daughter is growing up.  There are the classmates and close friend – Polly, although from being young Lumen was always something of an outsider, accepted begrudgingly into the class circles purely because of Polly.  Then we have the two young men of the story – Peter, who all the girls in school simply adore and Blackhat Roy – a wild young man who barely needs the moon to bring out his dangerous side.
Then there's the whole issue of 'breaching'.  A strange phenomenon that only occurs in Pale Miranda and during which the adults stay inside behind closed curtains.  It's not something to be questioned too deeply, more a look at maybe how parents not only see their children sometimes as little monsters but also how they sometimes turn a blind eye and resign themselves to certain rites of passage.  This book takes a much more intense look at that and magnifies it for the purpose of the story.
It probably will put people in mind of Lord of the Flies but really it's a different take completely as this story isn't about an absence of authority or rules.  These children/young adults run wild during the night and during the day return to their regular daily lives, everything seemingly back to normal and the strange behaviour incited by the moon, whilst maybe not forgotten, certainly put aside.  It kind of put me in mind of the strange and unexplained behaviour from The Secret History combined with the unusual character of Merricat encountered in We Have Always Lived in the Castle.
Basically, Lumen is a fascinating character – she has a certain innocent childlike exterior, almost ethereal, but this belies a certain darkness and cold detachedness that runs just beneath the surface and sometimes comes out in the strangest ways.
There are a number of revelations along the way and quite a dramatic ending!
I would definitely recommend this book
I received a copy from the publishers through Netgalley for which my thanks.  The above is my own opinion.