The Lives of Tao by Wesley Chu

28 March 2015
Filed under Book Reviews
Tags: The Lives of Tao, Wesley Chu

24 responses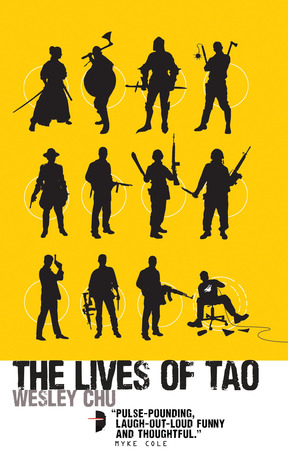 Just finished The Lives of Tao by Wesley Chu.  I'm a bit late to the party with this one and I don't know why I've waited so long but now I can pretty much read the entire series in short order which I fully intend to do as this was such a good read.
The book starts with a James Bond type action scene in which one man dies and as he takes his last breath the alien entity that lived within him is released and seeks the shelter of a new host.  By way of background: many, many years ago aliens crash landed on the planet earth and unable to survive without a host eventually settled on humans.  Their ultimate aim is to return home yet during their time here the group of aliens have become divided over the treatment of humans and civil war has ensued.  The Genjix are the more powerful of the two groups of aliens.  They believe that humans are little more than a means to an end – to get off the planet.  The Prothus on the other hand want to protect humans and the planet – they pretty much also want to get off planet but think this can be achieved in a more balanced fashion.
In terms of the alien/host relationship.  When an alien takes over a human the two remain in symbiosis until the death of the host – in fact this is the only way for the alien to be released. In that respect humans are groomed from an early age training for the day when they might be deemed worthy to become a host.
The names of the two main characters in the story are Tao (the alien) and Roen (his host).  Roen is an unsuspecting and pretty much unwilling host.  He's not ready for this experience and takes a lot of training to get anything up to a standard where he can keep himself alive even!  Tao is a very interesting character and shares some of his prior history at the start of each chapter which makes for quite intriguing reading.
I'm not really going to elaborate on the plot but more outline what worked for me with this story.
Firstly, it's actually good fun.  The dialogue between Roen and Tao is amusing to say the least.  Chu really set this up well by finding two such opposite characters.
Secondly, I really like the idea that for once the central protagonist is not really 'the chosen one'.  Roen is an unfit, nerdy, tongue tied, computer geek who's idea of a good time is a big greasy pizza oozing with cheese and a couple of beers.  He doesn't have an inner ninja waiting to break out and frankly even when he has trained hard he's still no hardass-butt-kicking hero.  He frequently fumbles his gun or goes into a complete paralysis stuck like a rabbit in the headlights at the first sign of danger.  I just find it really refreshing to have a relatively normal guy. I'm not saying he's the most easy to like character I've ever read because frankly he can be a bit whiney but he feels real with all his flaws.
Thirdly, I like the main concept of the aliens who are really a little like body snatchers – okay, they don't kill the human or make another version when they inhabit but let's face it – the only way you're going to be released from this situation is if you meet the Grim Reaper.
Fourthly, the pacing is fast and there's plenty of action.
I'm not going to deny that I had a few niggles and conflicting feelings when reading – like, the war between the aliens, I'm not really convinced by it.  At the end of the day none of the aliens actually ever seem to die – they just jump ship.  The only real casualties are the humans which is kind of ironic given that the Prothus are warring with their kind in order to protect people from mistreatment. I also wasn't convinced that under the circumstances so many humans would be on side ready to devote or even sacrifice themselves for the alien cause – particularly when ultimately the aliens want to leave.  Where on earth would that leave the humans – the aliens after all seem to have been the main instigators of our entire history not to mention the main catalyst for inventions.  And, when the aliens are eventually in a position to leave – well, how they going to get out of the bodies that are hosting them???  That's not going to end well for the hosts methinks.  I don't see what the humans get out of the relationship other than a complete lack of privacy from the moment they become a host to the moment of their quite often untimely death?  Not that there's much you can do about it anyway – you're not exactly asked for consent before your body is taken over.
But, in spite of my niggles or questions I did really enjoy this and I can't wait to see where it leads next.  Like I said it's a whole bunch of fun and a little whirlwind of a book where the pages just speed by.  Providing you don't want to scrutinise the detail to an nth degree this is a very enjoyable read that I would definitely recommend.