Kushiel's Dart by Jacqueline Carey, readalong week No.8

28 June 2015
Filed under Book Reviews
Tags: Jacqueline Carey, Kushiel's Dart, readalong week No.8

9 responses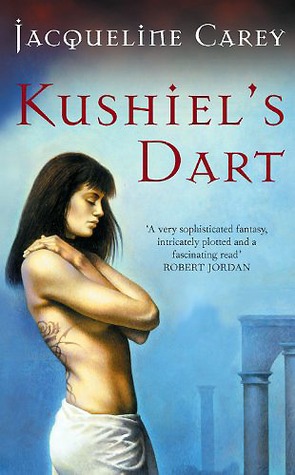 Today is the eighth week in our readalong of Jacqueline Carey's Kushiel's Dart.  This week I am hosting.  A lot took part this week and there were uplifting and bittersweet moments. The questions and answers for week No.8 are below.  If you haven't read this book already be aware of spoilers in the following text.  If you have read and want to jump in with your own answers then please do so.  If you want to join in with the readalong then leave a comment – the details are here.
This week chapters 64-73 are covered below:
1.  We finally go sailing and everything seems to be going so well that we were lulled temporarily into a false sense of security!  Sailors are a superstitious bunch, throwing coins to the Lord of the Deep, for example.  What did you make of the Master of the Straits?  Any similarity to other myths or legends?
I loved this part of the journey and I admit that the part with the Master of the Straits made my jaw drop.  This is a reread for me but I had forgotten that part completely.  The Master of the Straits is a bit scary and he certainly knows how to drum up a storm.  He puts me in mind of Poseidon to be honest, controlling the waves like that.  It was strange the way he was calmed by music – music to calm the raging beast eh? I suppose the God of the Straits doesn't get to see much so he presumably welcomes anything new!  I do wonder though why the MofS is so adamant about people not crossing his waters?
2. Hyacinthe plays a much larger role in this instalment and has come into his own, plus given a new title – 'Waking Dreamer'.  His travels so far have been very bitter sweet and you really do feel for him.  Bearing that in mind what did you make of the strange dream that Breidaia had where she saw Hyachinthe on an island – this was skimmed over a little but did it give you pause for thought.  Do you have any ideas of what's in store for our Waking Dreamer?
I can remember some of what happens next to be honest so I won't elaborate too much on that.  You kind of feel for Hyachinthe, he doesn't seem to have a smooth run of it.  In the last few chapters he was briefly accepted by his people only then to be rejected again and to leave them.  In this instalment he finally meets a woman, with a similar gift – and look what happens!  Phedre is supposed to be the one with the unlucky name, with bad luck following her around – I begin to wonder what Hyachinthe's name must mean then!  His strange ability with the Dromonde is certainly coming into it's own isn't it?  It's interesting that Breidaia had a vision for him – it made me wonder whether he can actually have visions that relate to himself?  I also thought it was interesting to learn that his mother taught him the Dromonde because she had a vision of him and realised he would need it!
3. You have to hand it to Ysandre for choosing Phedre as Ambassador.  It seems her strange talents come in very useful indeed.  What did you make of her tactics and powers of persuasion? 
It's intriguing that a large portion of this section seems to rely on Phedre's sexual prowess – whether that is to gain the access beyond a border or persuade twin rulers to go to war for a cause that isn't really theirs.  I liked that she sung them out of trouble when the Master of the Straits appeared and it certainly gives meaning to the phrase about all knowledge being power.  If she hadn't taken the time to learn the Skaldi women's songs who knows what would have happened.  I also thought it was amusing watching the twins bicker over her!  Although it did kind of stop me momentarily in that – well, what would've happened if she hadn't wanted either of them??
4. We finally meet Drustan he at first seems like an unlikely match for Ysandre and yet they both seem to have a shared vision.  Can they make it work do you think?  They have so many differences even if they do succeed in battle?
I like to think that they will make it work – of course they have a massive confrontation to overcome first.  It was interesting to see Drustan's feelings, even though he tried to hide them, about Ysandre.  He also seems to have a romantic vision in that respect much like she does herself.  It must be so strange to be the subjects of a prophecy – or to think you are!  It's almost as though it makes the two of them even more romantically inclined or opens up their eyes to the possibility of something that they may not have otherwise ever thought of.
5. Can we discuss the Dalriada and the Cruithne – do they put you in mind of any particular races?  What do you make of them??  
Both are great additions to the book.  I'm thinking that the Dalriada and Cruithne are based on the Irish and Scottish – or at least that's what I'm taking from this and that the language is Gaelic or that it's similar to.  I love their recklessness and passion, they seem to fight with a wild abandon.  Just before the fighting where Drustan was riding up and down talking to everyone, great leadership and motivation.  I was  also intrigued by the Dalraida going into battle on chariots.
6. I'm puzzled about Joscelin – he's always so severe on himself, particularly after the battle and Moiread's death.  I wonder why he blames himself so much – and I also wonder how he's coping with watching Phedre's actions – in particular her closeness to Hyacinthe.
In these chapters it felt like Joscelin had been relegated to a lesser role for a spell and we were having more of a focus on Hyachinthe.  I was surprised by how severe he was on himself at Moiread's death, of course it was really bad but she was out there fighting, I don't think anybody was really expecting him to protect everybody, some people will defend themselves after all.  I do feel kind of sorry for him watching Phedre, she's being herself after all, but it must be difficult to watch!
7. Finally, we're working ourselves up for the grand finale – do you have any predictions as to how this will all pan out?
I sort of threw this in as a teaser because I've already read this – what we do know is that there is going to be lots of action and suspense!
I love that Phedre had to knight the crew and they've become known as Phedre's Boys.
 Other participants: