Kushiel's Dart by Jacqueline Carey, readalong week No.6

14 June 2015
Filed under Book Reviews
Tags: Jacqueline Carey, Kushiel's Dart, Readalong week No.6

6 responses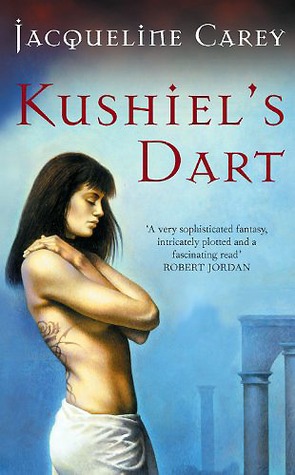 Today is the sixth week in our readalong of Jacqueline Carey's Kushiel's Dart.  Week five is being hosted by Grace at Books Without Any Pictures.  The questions and answers for week No.6 are below.  If you haven't read this book already be aware of spoilers in the following text.  If you have read and want to jump in with your own answers then please do so.  If you want to join in with the readalong then leave a comment – the details are here.
Chapters 46-54 are covered below:
One of the questions from last week dealt with initial impressions of Waldemar Selig's steading.  Now that we've finally met him, what are your thoughts about him?  Do you think he suspects that Phedre knows anything, and will he continue to play a role in the story?
I think he will definitely continue to play a role.  My thoughts about Waldemar – well, I think he's nobody's fool, I don't think Pherdre will be entrancing him with her wiles, or, more to the point, I think he would have no hesitation in killing her or anybody else who gets in his way, In fact, although he might not be as polished and sophisticated he's very much like Melisande – both ruthlessly ambitious and won't hesitate to do whatever they need to do in pursuit of their own goals.
What did you think of the visit to Lodur?  Do you think it will impact how Phedre thinks of herself?
This was really interesting in fact I was totally intrigued by that visit and Lodur himself. Really quite fascinating.  His comment about Phedre being a weapon was insightful – a dart can be a weapon after all and if you think about the dart as a weapon is something where you have to be a bit more cunning and also be a little bit closer to your target – which kind of describes Phedre.  Maybe she doesn't see herself as a weapon but she's been trained by Delauney after all and he always had a game plan.
Phedre and Joscelin have both gone through some harrowing experiences in the past few chapters.  How do you think it will change them going forward?
They've spent a lot of time together and been through thick and thin – I think this will give them a very strong bond moving forward.  Their experiences are not something you can shrug off after all.  On top of that they've got a little bit past their 'pride and prejudice' to see each other in a better light.
If you were in Phedre or Joscelin's place, would you have acted the same way in crafting your mastermind escape plan?  What are your thoughts on how it worked out?
I thought it was a good plan, especially considering the short notice Phedre had to come up with it.  It was definitely risky and I was tense reading it but it was good.  Hiding Joscelin in plain sight dressed as one of the Skaldic, nobody would be looking for it or expecting it – and the timing, I don't think they would have found escape so easy with a full camp and especially under the close scrutiny of Waldemar.  So, yeah, I have to hand it to Phedre, it was risky but it paid off and even though making a get away during winter isn't ideal it's also tough on anybody trying to catch up with you.
We're finally getting to observe a budding romance between Phedre and Joscelin.  How do you see this playing out?  What do you think of it?
Well, it was really very touching wasn't it.  And then they sort of blew it off, or at least Joscelin did – I think it will take a little bit more time before either of them would be comfortable with any more.  Even Phedre admits it was more akin to a dream.
Other participants: