Kushiel's Dart by Jacqueline Carey, readalong week No.3

24 May 2015
Filed under Book Reviews
Tags: Jacqueline Carey, Kushiel's Dart, Readalong Week No.3

7 responses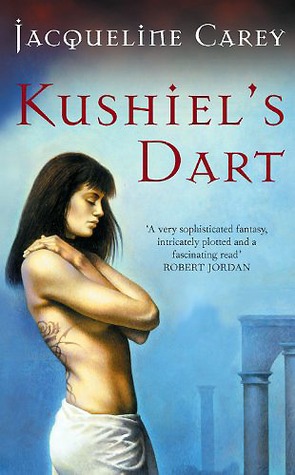 Today is the third week in our readalong of Jacqueline Carey's Kushiel's Dart.  Week three is being hosted by the lovely Lisa at Over the Effing Rainbow.  The questions and answers for week No.3 are below.  If you haven't read this book already be aware of spoilers in the following text.  If you have read and want to jump in with your own answers then please do so.  If you want to join in with the readalong then leave me a comment – the details are here.
Chapters 19 – 26
1)  We get a lot of political intrigue to wade through this week, plus a couple of pretty big dramatic revelations, not least of which was the twist of fate for Prince Baudoin and his mother. What did you make of the trial, and what became of these two?
What really surprised me with the trial was the speed and ruthlessness.  No messing about at all.  You're guilty, sentence: death: you have three days to choose!  Woah.  Plus father and daughter exiled too!  I confess, and this being on a reread, that I still don't completely grasp all the political intrigue other than that where there are crowns and kingdoms political intrigue and court backstabbing seem to follow.
2)  On a rather different, much more personal note for the House of Delaunay was the drama that unfolded surrounding Alcuin (poor Guy!). What do you think might become of Alcuin now that he appears to be out of the game?
We all pretty much knew that Alcuin was unhappy with his lot and so this wasn't a surprise.  I guess this frees him up to do more spy type work – he clearly expressed an interest in learning the sword and riding, etc, so he wants to be of further use to Delauney's cause.  He's a sad sort of character though isn't he.  He makes me feel sorry for him with his strange brand of quiet sadness.
3)  As we'd suspected last week, Phedre's refusal to use her signale gets her into some trouble with d'Essoms – but it also gets her the result that Anafiel had hoped for… Do you think she'll be more careful from here or will this only make that addictive slope more slippery for her?
I don't think she will be more careful because she seems to have met with success.  Therefore she's going to be even more determined now to not use her signale.  I don't really think that Phedre really understands at this stage that she is walking into trouble quite often.
4)  Speaking of Phedre and trouble, what do you make of the 'relationship' building between her and Melisande?
This is an unusual relationship – definitely not equal.  Melisande seems to play with people, in fact it almost feels like everyone she knows is being courted for a purpose.  She seems to know how she affects Phedre which is a little bit worrying because she always has the long game in mind.
I confess I read a little further this week than intended – quite by accident but also a happy accident as it means i've now become reacquainted with the Cassiline Brother!