Kushiel's Dart by Jacqueline Carey, readalong week No.2

18 May 2015
Filed under Book Reviews
Tags: Jacqueline Carey, Kushiel's Dart, Readalong week No.2

4 responses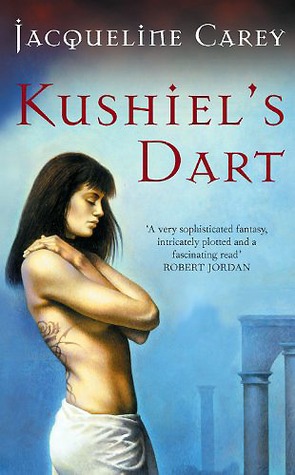 Today is the second week in our readalong of Jacqueline Carey's Kushiel's Dart – again, apologies for being late, this weekend was a bit hectic and on top of that I feel really miserably ill! Seriously, I won't be late every week. Week two is being hosted by the lovely Allie at Tethyan Books The questions and answers for week No.2 are below.  If you haven't read this book already be aware of spoilers in the following text.  If you have read and want to jump in with your own answers then please do so.  If you want to join in with the readalong then leave me a comment – the details are here.
Chapters 9 – 18
1) In these chapters, Phèdre finally gets to have her own dedication ceremony.  Were you surprised by what they did with the dove? Also, do you think it is fair to ask people to make a life decision about serving Naamah at such a young age?  
Yes and no, put bluntly!  Well, I've read this before but I still had the horrible feeling that the dove was going to be sacrificed and was shocked again when it was released.  I can't help think that it's the opposite to what Phedre is actually doing – she's giving the bird it's freedom whilst tying herself to this way of life, of course, I don't suppose she really has that much option in the matter.  The whole issue of being raised into this sort of life from such a young age sort of rankled with me a little bit and certainly to make that choice at the tender age of 16 is harsh.  Reading about it here it's sort of painted over a little and you don't really have the sense that it's a bad life but in this day and age you would probably throw Delauney in prison for grooming young children for sex!  I don't dislike Delauney at all, in fact quite the opposite, and I'm also conscious that Phedre's life could have been very different and also a lot worse without his intervention, but, in spite of all his best intentions he has the care of two beautiful children and has brought them up to glean secrets from people who think they are little more than sexual objects.  Plus, they both adore Delauney and see him as their own personal hero so there's very little chance that they would refuse his wishes.  They both know (or at least think they do) what Delauney is expecting of them and there's always the threat that he could simply sell them elsewhere into something far worse – which does rather make them want to be pleasing.
2) Sex ed is definitely different in Terre d'Ange.  Do you think the Showing was useful for the teenagers? Do you think, at their age, you would have appreciated something like the book-learning they received in the art? 
Oh, I would have been mortified with embarrassment if I'd seen that 'showing' at their age – but I actually think it was useful for them – if only to show them that sex is enjoyable!  Not sure how much help it was to Aluin for that matter though.  At the end of the day – I love reading books but some things you can only read so much about before you really need to put into practice what you've been theorising over.  You can learn as much as you like but you'll never know what it actually feels like, I suppose it's a bit like cooking, you could read about how to cook a dish, even watch how to prepare it – but you wouldn't know what it tasted like.
3) Hyacinthe has some neat theories about Delauney's past.  What is your favorite theory? 
I definitely liked the theory that Delauney was in love. The whole story so far lends itself to that for me.
4) Phèdre seems to be making a name for herself as an anguissette, known for never giving the signale. Do you think she would ever actually choose to use the signale, even if she were in real danger? Do you think her inability to do so might get her into trouble?
She is very stubborn for sure!  If it was me I would just give in before the pain even started!  I'm just such a wimp and so it's difficult, to an extent, for me to understand the whole mixing pain and pleasure – I think the most pain and pleasure I have ever suffered is being tickled, which i'm so ticklish that I hate, and yet it just makes me laugh out loud regardless.  I think Phedre definitely needs to think about where she draws the line though.  It kind of makes me thing that soon enough, someone down the line, is going to want to make her give in – like a battle of the wills.
5) Do you think Alcuin is enjoying his career as much as Phèdre, or do you think he has a different focus? Do you think their differing appeals and tastes will drive them apart?  
Somehow, no.  I think Phedre is much more of a natural in the life she has chosen.  She has an abundance of curiosity that will undoubtedly get her into trouble and yet she seems perfect in this role.  Alcuin seems more vulnerable somehow.  He clearly massively adores Delauney and it definitely feels like he would do anything for him – I just wonder though if this is the right choice for him – he would make a really good spy perhaps. I don't really think their tastes will drive them apart.  I think they would suffer more in that respect if they were vying for the same sort of attention.  This way Delauney has two options and more coverage.
Extras:
I particularly liked the scene where Phedre chose Hyacinthe has her signale.  Not only because it came so naturally to her mind but also because for once she managed to get the shock element on Delauney which doesn't really happen often.