Kushiel's Dart by Jacqueline Carey, readalong week No.1

10 May 2015
Filed under Book Reviews
Tags: Jacqueline Carey, Kushiel's Dart

16 responses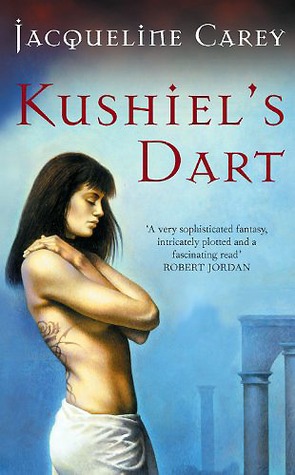 Today is the start of a readalong of Jacqueline Carey's Kushiel's Dart – sorry I'm a bit late but life conspired against me this weekend and I haven't been near a book or a laptop until now.  Week one is being hosted by Susan at Dab of Darkness.  The questions and answers for week No.1 are below.  If you haven't read this book already be aware of spoilers in the following text.  If you have read and want to jump in with your own answers then please do so.  If you want to join in with the readalong then leave me a comment – the details are here.
Chapters 1-8
1) Here we have the earliest days of Phedre's life, and we have the story of Elua and his followers. Did you note any similarities between Phedre's beginning and Elua's stories? Do you enjoy having these stories upfront or would you rather have had the stories shuffled in later with an adult Phedre looking back? 
I must say that I didn't really pick up on the similarities, which isn't to say they weren't there but I just didn't pick up on them.
I really enjoy this sort of story style where we get a narrative looking back at the childhood years and in fact I much prefer it to having flashbacks.  This way just feels more natural.
2) Hyacinthe has become Phedre's one true friend. Do you think she is the same for him? The dromonde, or fortune telling, fascinates Phedre. Do you have a fortune telling story? 
Fortunately, even though I've read this book before, my memory is dreadful.  At this stage I'm going to say that Hyacinthe enjoys Phedre's friendship and it's as simple as that.  Of course he's an astute little boy but I think he enjoys being with somebody who is not from his particular neck of the woods.  Somebody a bit different.
I don't have a fortune telling story but now I really feel like I want one!  Oh well, I'll just have to satisfy myself with everyone else's' stories.
3) The Midwinter Masque on the Longest Night is a long held tradition in Terre D'Ange. What stood out for you? Have you been to such a fete? 
I haven't been to a masqued ball although I would love to.  I loved this part of the story so far, it puts me in mind of reading about such balls in historical novels set in Venice.  I loved all the themes and the way people were dressed.  I suppose what stood out for me were Phedre's excitement to be a part of it all, Delaunay being in attendance and actually approaching her and the strange hints at political/royal maneouvering.
4) Anafiel Delaunay has many secrets. How do you think those secrets will shape Alcuin and Phedre? 
This is an interesting question – I think Delaunay's secretive nature will possibly make Alcuin and Phedre even more desperate to find out what really went on in the past.  I think it will help to shape them into two incredibly inquisitive people.
5) Delaunay has a saying; All knowledge is worth having. Do you believe this is so? 
Well, yes, I do think so although I think it could be a bit much trying to have the depth of knowledge that Phedre and Alcuin are being crammed with – that being said, they're young and their minds are like sponges.  It does make you wonder though about how it might set them apart – if you're always looking at a thing through different eyes trying to read into everything then surely you're not as open to simple enjoyment.  It seems like the two are a little bit isolated in a way.