A Court of Thorns and Roses by Sarah J Maas

24 April 2015
Filed under Book Reviews
Tags: A Court of Thorns and Roses, Beauty and the Beast, Fairy Tales, Retellings, Sarah J Maas

23 responses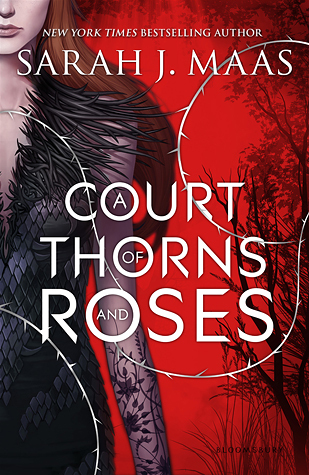 A Court of Thorns and Roses by Sarah Maas
Just finished reading A Court of Thorns and Roses by Sarah Maas which I confess took me by surprise.  I've not read any of her books before so didn't know what to expect and I admit that the gorgeous cover and the thought of a story based around the Beauty and Beast tale intrigued me. I'm not going to deny that I had a few issues here and there but over all this book just drew me in – a great combination of deliciously wicked fae and sizzling chemistry basically captivated me.
When I first picked this up I didn't think we were going to get along.  The story did come across as YA(ish) and whilst I quite like YA I'm a little bit more careful about how I make my choices these days as some of the books just simply don't satisfy my need for detail and world building.  On top of that at the beginning of the story I found our main protagonist (Feyre) to be somewhat annoying and, I might add, that she doesn't completely lose her ability to frustrate until quite late on in the tale.  More about that to follow.  However, in spite of my reservations and huffing and puffing over Feyre I suddenly found myself compelled to read and I can say I pretty much read this in fairly short order from that point on.  So, what's that all about then!  Perhaps I was glamoured? Okay, I admit that there is a certain something here in relation to a couple of the fey being rather, ahem, charismatic – I admit it and there's nothing wrong with a bit of indulgence every now and again.  Ms Maas can write seductively to be sure.
At the start we're introduced to Feyre as she hunts in the forest killing not only a deer, which she and her family desperately need to survive the next couple of winter weeks, but also a wolf.  A huge silver wolf that for one brief moment Feyre fears might be one of the fey in disguise.  And right there we are introduced to the fact that the fey exist and they are separated from ordinary mortals by a glamoured wall and a treaty which governs their behaviour towards each other.  Feyre is about to fall foul of the treaty and as such her punishment is to live the rest of her days in the land of the fey.  At this point the writing does become a lot more descriptive with lavish details about the home and grounds and I did wonder if the writing at the start, which by comparison was almost plain – was to help demonstrate the difference between the two worlds?  Maybe, or maybe I'm just being fanciful.  So, we're introduced to Tamlin's home.  Tamlin is a High Lord of the Fae from the Spring Court.  We also make the acquaintance of Lucien his ambassador.  The Fey from the Spring Court have all been be-spelled and live under a curse which means that they are unable to remove the carnival masks that they were wearing on their faces at the time the curse fell.  Their faces are therefore never revealed  From this point forward we begin to discover a little more of Tamlin's world and it becomes clear that everything is far from fine.
This reimagining has many of the original fairy-tale elements just veering off course a little (after Feyre returns home and realises she's made a mistake and needs to get back to Tamlin).  At this point she becomes a prisoner of Amarantha a wicked fae queen and is forced to undertake a number of challenges or solve a riddle in order to survive and free not only Tamlin but the Spring Court.
In terms of characters.  The main characters are Feyre and Tamlin.  Of course, just to be contrary my favourite characters were Lucien and Rhysand.  Don't get me wrong – Tamlin is quite an attractive proposition but I found myself less drawn to the two main characters than those on the periphery.  In terms of Feyre  – she irritated me for a number of reasons.  She didn't stand up for herself with her own family, she committed an offence for which she was being punished – and her punishment meant being kept in the lap of luxury and pampered to within an inch of her life and yet she acted, frankly, a bit brattish and whined quite relentlessly at the start.  She did change as the story went on however which was a nice surprise.  Tamlin – well, I liked him, but, he seemed to do a lot of growling and unsheathing his claws but it all felt a bit like a bluff.  A bit more bluster than bite. Plus I never really understood the attraction between the two – or maybe it just felt too sudden.  Now Lucien has a little bit more about himself.  He's not easily won over by Feyre at all, he's a bit surly and in terms of the fey he's less than perfect – in fact he's scarred and missing an eye. I like that he has a harsh background.  Then we have Rhysand – now here is a guy with appeal.  Oh yes.  He is dangerously dark and seductive.  Sinuously sexy even.
Yes, I enjoyed this.  It felt like a bit of indulgence but sometimes you just have to treat yourself.  I started off a bit belligerently and had a sense that I wouldn't enjoy the writing.  I think that Beauty and the Beast being my favourite fairy tale I was almost a little reluctant to be won over – and, I did struggle a little to like Feyre at first  – but, won over I was, whether I would allow it or not!
FYI I would just point out that although I thought this was YA some of the content crosses into NA so be aware of that.  Also, the middle part of the book takes it's sweet time, there is action but it's confined to only a few characters and settings until the final third ratchets the tension up – not a problem for me personally but worth pointing out.
I received a copy of this from the publishers through Netgalley for which my thanks.  The above is my own opinion.