His Own Good Sword by Amanda McCrina

10 March 2015
Filed under Book Reviews
Tags: Amanda McCrina, His Own Good Sword, Mark Lawrence, Self Published Fantasy Blog Off

16 responses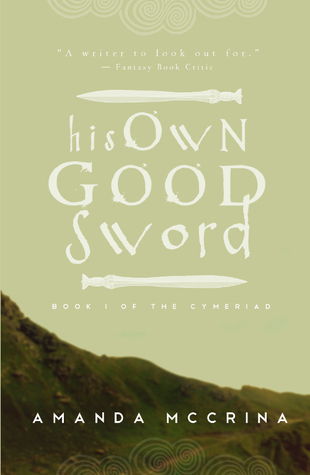 His Own Good Sword gets underway the first of my reviews for the Self Published Fantasy Blog Off, brainchild of Mark Lawrence (in collaboration with Bookworm Blues) the details of which are here.
I randomly chose His Own Good Sword to start off with and actually I was pleasantly surprised with this book.  It did get off to a little bit of a slow start but I soon became quite intrigued with the story of Tyren Risto.
This is very much what I would describe as alternative history with the Roman-like Varenos having conquered the Cesins.  This has been far from a smooth occupation and over the years a number of rebellions have flared up.  At the start of the story Tyren, second son to the noble Risto family, has been sent his new commission.  Unfortunately he's been posted to Souvin, not only an outlying backwater but something of an insult to the Ristos.  It turns out that the Ristos have a long standing history of bad blood with the powerful Marro family and following a spat between Tyren and one of the Marros this Commission is a demonstration of just how powerful that family have become.
There are two strands to the story.  Tyren's posting in Souvin and the difficulties he encounters there in terms of rebellion and potential uprising and the story of the Risto family and the political maneouvering taking place behind the scenes to undermine not only them but the Senate itself.
I guess I'd call this something of a gentle read and I suppose what I really mean by that is that it crept up on me unexpectedly. Also, although the story involves conflict and bloodshed it's not particularly violent or gory.  The details of the fighting and injuries are almost delivered in a calm and measured tone.  I don't mean to underplay it by describing it that way – just that it has a realistic feel but narrated in a non-dramatic style.  I liked, for example, the fact that during battle Tyren does become exhausted and the injuries he sustains have a real impact that knock him out for days and continue to cause him problems even later in the story.
We read primarily from the POV of Tyren with occasional chapters being led by his father Torian and this helps the plot to unfold in a fairly easy to follow style with a view on the bigger picture rather than focusing only on the potential uprising in Souvin.
I would say the story is primarily character led with Tyren being the main protagonist and quite a good supporting cast although that isn't to underplay the plot which builds subtly to become quite compelling.  The world building is fairly low key – not a problem although I thought it could have been added to a little just to give it a bit more flavour.
In terms of criticisms.  Well, the pacing was a little slow and the dialogue felt a bit unpolished, particularly at the start of the story. Also, I did at times feel a bit put out with Tyren – he certainly didn't make the best decisions and his lack of foresight and naivety proved costly to quite a few others – I sort of tempered this with the fact that he's an idealistic 19 year old finding himself in charge of a garrison soldiered by older and more cynical men.  I was also a bit perplexed with Tyren's sudden liking for one of the rebel women – it just felt like it came out of nowhere and wasn't entirely believable. I would say it took me a little while to become truly invested in the story but once I did it was definitely a good read and to be honest one that I would continue with.
The other thing I would mention is that if you're expecting any fantasy elements in terms of dragons, swords or sorcery or unusual characters with pointy ears then you may be disappointed (well, not on the sword front maybe).  This story is fantasy purely by dint of it being completely fictional. In other words it isn't a work of fiction set in Rome and based on the wars and deeds of that time and place.  The entire place, people and wars are fictitious.
I think that if you enjoy alternate history, particularly when based on the Roman Empire with politics, conflict and underhanded behaviour together with a protagonist who hasn't yet proved himself but looks set to take events further with plenty of potential for development then this could be for you.  I would continue with the series as I'm curious as to where it will go next.
I think this was a good start to the SPFBO