The Eterna Files by Leanna Renee Hieber

2 February 2015
Filed under Book Reviews
Tags: Gaslight fantasy, Leanna Renee Hieber, Paranormal, The Eterna Files

19 responses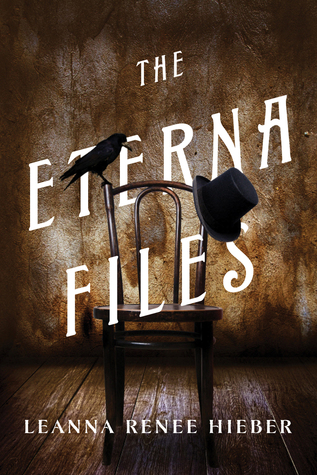 The Eterna Files was one of my January reads and is released early February.
The premise of the book revolves around the search for immortality and the race between the US and the UK to find the files that provide the solution.
After the assassination of Lincoln the US went on a mission to find a means to grant immortality.  Of course Queen Victoria, herself still in mourning, also wanted to find the means by which to provide immortality.  And so the race is on.
At the start of the story we are introduced to Clara, a rather extraordinary young woman who has visions and prophetic dreams and seems to be able to remember all her previous lifetimes!  Clara is a young woman, brought up by a guardian and taught to use her skills and protect herself from the spirit world which would otherwise bombard her.  The original concept for Eterma was arrived at by Clara and now she blames herself for the death of the team who were working on the compound and ultimately resulting in the untimely death of her beloved – she can't even openly mourn his death as nobody was aware of the relationship!
Meanwhile, back in England, a team is being put together, run by Harold Spire, of the Metropolitan Police.  Spire will draw together a strange bunch of unlikely characters including circus performers, spies and scientists.  Spire himself has a background, he's been burned by a romance and he's not quite as trusting anymore.
We have a number of other characters and it's easy to see the references to the X files – in terms of Spire's team for example, Spire is not a believer in anything out of the ordinary and Rose is very scientific and methodical whereas Clare's team rely very much on the paranormal!
The settings are very easy to read about jumping between New York and London and the author does a good job of evoking the time.
This is certainly an unusual book.  Two opposing groups of people in a race against time to find the solution to immortality.  And, yet, this solution could also be used for harm!  And, on top of that there seems to be a third party – but I won't say more on that score.
The story is told from alternating perspectives which gives us a better idea of what is going on and makes us privy to the actions of both teams.
On the face of it this book has such a lot that I love and I confess I was very excited to receive a copy.  Ghosts and paranormal activity, alternate history, spies, subtrefuge and intrigue and it is undoubtedly well written with plenty of detail and yet, to be honest, I struggled a little with this one and came very close to putting it down.  I'm not sure why and can't put my finger on it but it seemed to, well, drag, somehow.  It's a really interesting idea, a good cast and the setting and time very enjoyable to read about so frankly I'm not sure exactly why I struggled.  I think perhaps the pacing is a little off and I also had difficulty relating to Clare or at least understanding what makes her so special maybe??  It could simply be that this book is suffering from first book syndrome.  It is definitely a set up for the next book.  Simply, I just didn't relate to the characters enough to be honest.  I don't think I really bought into them and, in fact felt a little ambivalent towards them.
I am intrigued though, it ends on something of a cliffhanger and I think that maybe, in spite of my reservations, I would continue with the series.  Like I said, I didn't race through this and I don't think it gripped me in the way I expected but I'm keeping my options open for the time being.
I certainly wouldn't discourage anybody else from reading this. I wouldn't say I loved it but I am keeping an open mind in terms of the rest of the series and I think there's plenty here if you enjoy something of a paranormal mystery.
I received a copy of this courtesy of the publishers through Netgalley for which my thanks.  The above is my own opinion.