Tainted Blood by M L Brennan

5 January 2015
Filed under Book Reviews
Tags: A Generation V novel, M L Brennan, Tainted Blood

15 responses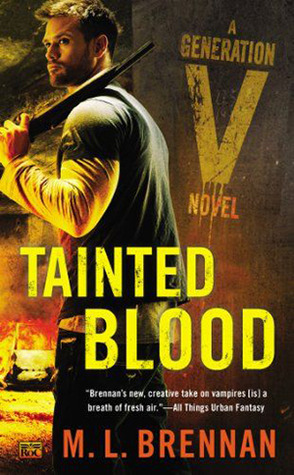 Do I love this series or what!  Let me count the ways in which I love it. Well, firstly, I seem to have gobbled up the first three books in fairly short order, secondly, it's got two very likable leads – one of which is a very cool Kitsune, thirdly, it's fast paced, action packed and pretty funny, fourthly it brings something a little new to what could be deemed as a genre that is becoming a bit jaded, fifthly – what the hell, do you need any more, really – a Kitsune people!!
(Note: obligatory spoiler statement – I do try and avoid spoilers but it you're new to this series it's probably best not to start reading here!  So, for the record 'I told you so!'). The series revolves primarily around a young, not-yet-grown-into-his-teeth vampire called Fortitude Scott and his family, it's set in our world but populated with supernatural types that most of us regular folks are thankfully oblivious to – at this point we've only been introduced to a number of these supes and this installment focuses on the werebears.  At the start of the story the Head of the local were pack is murdered and the Scotts are called in to investigate!  Fort has to step up to take on the task as he's currently covering the role for his brother who is somewhat distracted.  I may have mentioned this but the Scott's come across a little like the Mob of the fantasy underworld.  They, ahem, offer 'protection' to the others and closely regulate their territory to prevent action that draws too much attention to their kind!
Now, I'm not going to go specifically into the plot here – you have your basic investigation taking place and the usual drama that follows Fort and Suzume around as huge critters chase them around the woods!  The storyline is fast paced and compelling as ever but more importantly than that (to me at least) is the underlying shift in balance that seems to be taking place between the Scotts and the rest of the supernaturals together with the change in the family dynamic.  Clearly, things are going to come to a head and in this installment you can feel the tension not only within the family, where there will clearly be a struggle for dominance as certain events transpire, but also in the community where lines in the dirt are already being drawn.
Let's face it, some of the supernaturals who fall under the Scott's control aren't happy with their lot and with a change looking imminent they're keen to set out their stalls early.  Fort is young, he isn't set in his ways and he's clearly willing to listen and, more than that, sympathise with people who feel they have an axe to grind.  It's going to be very interesting to read No.4 in the series.  There is definitely the potential for so many things, in so many ways, to just blow up and become either completely unmanageable or to cause a major rift!
What I particularly like about this series is the way the author is introducing us to things at the same pace as Fort.  It's like we're all learning about his world with him and I think this is so clever to be honest.  Importantly, she establishes a link with the reader and Fort (and Suzume) really early on and then she builds with each installment providing another little piece of his world.  On reflection, it's easy now to look back at Fort's early impressions of his family and think that he's perhaps an unreliable narrator when it comes to his family – but this is based more on the fact that Fort has been largely brought up in the care of regular humans, he hasn't spent much time with his vampire family and consequently he's only just learning about them and about the boundaries – just like us!  Fort is definitely a character who will grow on you without a doubt.  Suzume – won't grow on you – it won't be necessary for any growing-on at all, you'll simply read her and love her immediately.  She's just fun, confident, cool, cocky – what can I say – she's an excellent work of fiction!
Anyway, that's it for me.  If you like urban fantasy and you're looking for a new series give Generation V a shot.  Credit where it's due: I have the lovely Mogsy at The Bibliosanctum to thank for putting me onto this series!