Red Rising by Pierce Brown

29 August 2014
Filed under Uncategorized
Tags: Dystopian/fantasy, Pierce Brown, Red Rising

22 responses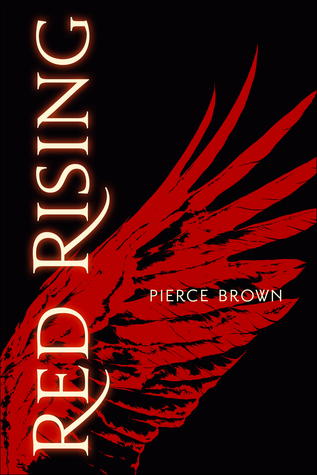 Just finished reading Red rising by Pierce Brown – I confess that I went into this with maybe slightly negative feelings.  I was feeling a little bit meh about another futuristic dystopian novel.  Lets face it Collins was to dystopia what Meyers was to Vampires and frankly it became a little bit tedious to say the least.  So, let's just assume I was going to be a little bit of a tougher nut to crack on this novel than I sometimes feel when I start reading.  This is the first thing that makes it so much more surprising that I totally enjoyed this book.  Not only did Brown win me over but he gripped me and had the pages turning so fast that you could be forgiven for thinking I was Johnny 5 – need input!
Okay, the novel gets off to a fairly quick start.  We're introduced in short measure to the mining community and I'm talking about the mining community on Mars!  These people work bloody hard – they have to make a quota in order to eat.  The idea of luxuries is ridiculous beyond measure.  These people have nothing – however, what they do have is love and passion in abundance.  In that respect they are rich and their families bathe in the wealth of love that they all hold for each other.   Don't get me wrong, there is a lot of harsh competition between the different families, which is understandable given the benefits, but they all still have a fairly tight knit community.  Now, all that, came across in fairly short measure.  Brown has a wonderful eloquence with words that imparts knowledge without impeding the story.  What happens next is eye opening for you the reader and for Darrow who is the main protagonist.  Yes, we've both been taken for a ride here – by someone.  There is some pretty deep shit going on here!  And, I don't want to give it away – however, this is a review so I have to write something and I'm going to move the story on without telling you exactly why.  Suffice to say that Darrow finds himself in a situation where he is part of a team, warring against other teams for the prize of becoming the best.  This is not a fight to the death – this is a game of survival and tactics, a game of politics and making friends where you least suspected.  A game where you can rise to the very top.
So, onto a more critical analysis.  The setting.  Easy to visualise.  Nothing too over the top in the way of future sophisticated scenery just a glimpse, not enough to date the story too quickly.  Basically the people on earth have discovered ways of colonising other planets.  They need a certain gas (found beneath the exterior of Mars – hence the miners) in order to do so.
The characters – we have a brief glimpse at the beginning of the miners and they really do have the pretty fuzzy end of the lollypop, which makes the reveal so much worse.  Obviously the main character is Darrow – and he's a dilemma.  He starts off the story with a fire in his belly.  He is on a mission which is not necessarily the one he wants but it's the only chance he has.  Having read the book I'm not sure about Darrow  I don't dislike him, in fact the opposite, however I think that Brown is clearly trying to get across how a person is influenced by their environment.  Darrow is in a competition and he wants to win. Of course he wants to win for a purpose and yet reading the story does he also start to become a tiny little bit like the people he most hates – anyway, I move into other realms.  There are plenty of characters, slimy two timers, hench-can't-be-stopped-don't-mess-with-me-mothers and straight-up-crazy-arsed-in-a good-way-runs-with-wolves-and-scares-the-shit-out-of-everyone types.  Basically there are good guys and bad guys on every team, in fact there are right and wrong people in every strata – and that's the way it is and it starts to come out as the story goes along.
Anyway, the whole dystopia boils down to the fact that society has become segregated.  People are born and live into a colour that defines them for the rest of their lives.  Reds are miners, Golds are the top echelon of society and then there are a whole variety of colours in-between.  Looked at in that way and in the way that the book is written it seems almost an exaggerated take on the class system.  There are more stratas than upper, middle and lower class but at the end of the day it boils down to the uppers and lowers which are basically the ones where the disparity are most likely to show issues in any society.  As an example, you have people of the upper stratas killing time and flying around on their hover boots chasing young girls to frolic away the afternoon whilst others of the lower factions are struggling to make a living and stay alive.
What makes this book so readable and so intense is the competition that Darrow becomes a part of.  It's really tough.  I don't know whether this is YA, but I personally thought it was due to the age of the main protagonist and yet this gets down right dirty and ugly. This isn't a simple game of survival – it gets much more tough than that.  It's a gritty read and also reads almost like a straight up fantasy given the setting which during the games is almost mediaeval.
Anyway, this is a very cryptic review because I don't really want to give too much away.  I enjoyed this. I thought the writer's style was addictive.  I found the whole competition intriguing and I'm perfectly sure that I've missed a lot of nuances that I'm sure everybody else will pick up on.  So read it and tell me what I missed.
A book which I have no hesitation in recommending.
I received a copy of this from the publishers through Net Galley for which my thanks.  The above is my own opinion.