Once upon a time there was a beautiful princess…

31 July 2014
Filed under Book Reviews
Tags: Fantasy Review Barn, Princesses, Tough Travelling

19 responses
It's Thursday again which means we're off travelling through the tropes of fantasy with Nathan from the Fantasy Review Barn.  This week we're taking a look at Princesses:
PRINCESSES come in two main kinds:
1. Wimps.
2 Spirited and wilful. Spirited Princesses often disguise themselves as boys and invariably marry commoners of sterling worth.
My contributions this week below – and don't forget to check out the other participants – there are usually some pretty good books floating around this event that you might just want to add to your tbr – another one couldn't hurt – you know you want to!
Princess Miana – King of Thorns by Mark Lawrence.  Married to Jorg at the tender age of 13 – don't let her age deceive you.  This young lady is no shrinking violet.  She has been raised a Princess and she certainly acts like it!   She can give Jorg a run for his money.
Princess Aisha – Stormdancer by Jay Kristoff.  Sister to the Shogun – her initial introduction to the story makes her look like a spoiled and pampered princess with long lacquered fingernails, fancy clothes and ladies in waiting.  In truth she is far from this initial impression and for me I would have appreciated the role being developed more.  Stormdancer – Japanese steampunk and griffins – oh yes!   Plus – look at the gorgeous cover!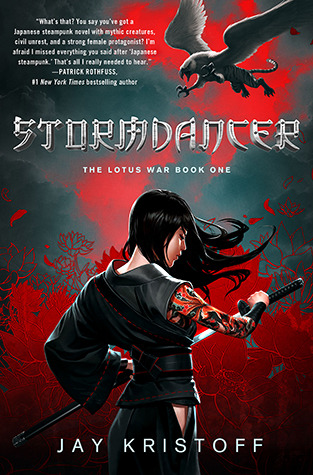 Princess Eowyn – this is a slight cheat as I'm not totally sure that Eowyn was a princess.  Anyway, it's LoTR so it has to have an obligatory mention.  Eowyn is the niece of King Theoden.  She dressed as a man in order to ride with the Riders of Rohan and take part in the battle of Pelennor Fields.  She played rather a crucial role as it happens. Suffering the slimy interest of Grima Wormtongue and brought low by the unrequited love of Aragorn – hey lady, take a ticket and join the queue!
Princess Clarice –  The House of the Four Winds by Mercedes Lackey and James Mallory.  Clarice dresses as a young man in order to experience travels on her quest to become a master swords woman!  Having 11 other sisters requires that all these princesses can hold their own.  They're sent into the wild world to learn a trade.  High seas adventures with pirates and sea monsters.  Much fun.
Princess Daenerys Targaryen – Game of Thrones by GRRM – no introduction really needed here methinks.  And, she has three dragons!!!!
That's it for this week – stopping at five – but I would like to give mentions to Princess Buttercup – can't miss an opp to throw in the Princess Bride and also Sarah Pinborough's fairytale retellings Poison/Charm/Beauty – twisted retellings I might add.  Cinderella, Snow White and Sleeping Beauty like you've never seen them before!