Annihilation by Jeff VanderMeer

9 July 2014
Filed under Book Reviews
Tags: Annihilation, Jeff VanderMeer

16 responses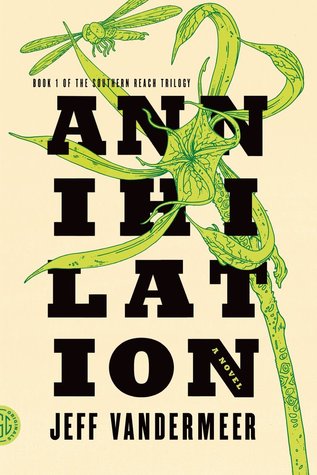 Woah, just finished reading Annihilation and, seeing as how I'm having a week of confessions I'll continue in the same vein.  What the hell just really happened!  Yes, I own up that I'm a little bit puzzled – but, this isn't in a bad way and frankly it's clearly the intention of the author to leave a lot of things unspoken – whether that's for this particular book or for future instalments – who knows.  What I do know is that this is a dark, creepy, spooky, threatening and intensely psychological read.  Strangely compelling and a bit surreal.
At the start of the story four women cross over the boundary into Area X.  We learn very little about what the actual boundary 'constitutes' or Area X for that matter – is it some strange experiment zone that has gone horribly wrong, is it a different realm somehow?  It's all a bit vague and to be honest more creepy because of the lack of explanation.  All we know is that four women have set up camp with the objective of taking back samples and observations – and more expressly being told not to be contaminated.  This isn't the first expedition and I dare say it won't be the last but as the story goes forward we learn that not only are there unknown quantities to be found in Area X but also amongst these latest visitors.  There are secrets that will be revealed not to mention that the authorities who organised this little foray into the unknown may have been a little less than honest with what they already know.  Secrets and lies all around, on top of which I wouldn't say the four members of this particular crew are chummy!  There feels like an animosity between them – a little bit more of the why eventually being revealed.
This is only a short story and it gets off to a fairly immediate start.  The narrative is related through one of the expedition members – the biologist – and the story stops here and there to give a bit more background about her.  We don't find out names – which all adds to the creepy feel – you almost feel like you can't become attached and there's a terrible sense of foreboding that something horrible is going to happen to each one of them.  Then the author throws in background and past experiences from the biologist which makes you latch onto her with a profound sense of relief.  It's like the author has somehow made you flounder around and then thrown a lifeline.  And, so you follow the story of the biologist, jumping back and forward on occasion as she casts her mind back in some form or revelation or self recrimination – and yet, rather than diluting the suspense of the novel this only serves to increase it.
I can't really give a lot more away to be honest because it would be so easy to be all spoilery!  This is a scary little number, I'd class it as horror although a true horror reader may think that it's light on that aspect.  I'm also not going to deny that it probably wouldn't be for everyone.  Not because it's particularly horrific but more a rating of 'hide behind a cushion'.  It's the whole creepiness of Area X really.  Anything seems to go here – it's like a Nightmare on Event Horizon.  In fact it's nothing like that – it's just messed up!  I will certainly be reading the next in the series.  Yes, it's not the kind of book that you come away saying 'I enjoyed that' – that statement would just be wrong!  It scared me a little bit, in fact I was near the ending but didn't finish as I was up alone so saved the remainder until the light of day!  It intrigued me a lot!  And, it gripped me.  It was surreal in parts and I'm not really sure what is going on in this zone – I certainly hope it doesn't spread any further and let's say it's safe to say I won't be volunteering for a trip any time soon!