The Martian by Andy Weir

6 July 2014
Filed under Book Reviews
Tags: Andy Weir, The Martian

26 responses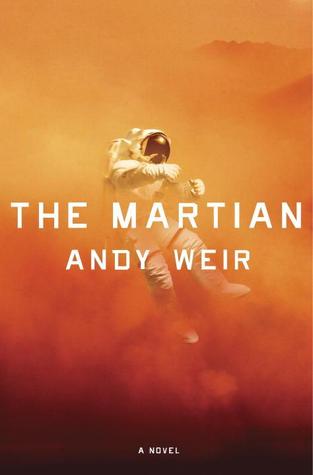 I've just finished reading the Martian.  Firstly, wow – what an ending!  I was gripped, I could cry right now and I'm exhausted having read the full thing in virtually one day and holding my breath for long bouts when the tension cranked up – I think I'm oxygen starved!
I don't think I'm giving away much when I say the Martian is about an astronaut (Mark Watney) who gets left behind on Mars!  In a nutshell, when the crew are making ready to depart an accident occurs that leaves one of them injured, believed dead and out of sight.  The crew, believing there is no hope, and also facing a high storm, reluctantly leave without the body!  When Mark wakes up he's on his own, injured and without any real hope of survival or rescue!  But, this is a resourceful guy!  Planet earth may be blue but there's plenty Mark can do.  If this was me, well, apart from the fact I wouldn't be on such a mission in the first place, I would probably curl up in a ball, Mark, however, is a real fighter and so our story begins.
First things first, basics.  Food, water oxygen, then communication, then rescue!  These are the problems Mark has to solve and let's just say he's a creative thinker!  Sci fi fans will love the creativity and ingenious thinking.  I won't deny that there's lots of number crunching, equations, ratios – you name it, anything that my brain usually struggles with is thrown in here – and yet it's done in a way that doesn't leave you mind boggled.  On top of that Mark's sense of humour in the face of such dire circumstances is positively heart warming.   He's a botanist – fear his botany powers!  The whole growing crops aboard his little station is so inventive – not to mention his creativity about fertilisation, ahem.   Put bluntly, it's one of those books where you alternate between thinking he's going to die to breathing a sigh of relief, to thinking he's going to die, to breathing – yeah, you get it!  Then, just in the nick of time, because that could become tedious – we have the inclusion of the people on earth, what's going on at NASA the public frenzy generated by the media trying to discover what exactly is going on when they realise Mark is still alive!  I enjoyed those elements and thought they brought something extra to the story.  It's difficult after all for one man to completely carry the story.
The story is told by Mark as he records his actions on a log and treats us to his life and death escapades with a little humour thrown in between as he comments on his only form of entertainment – 1970s tv and disco music.
In terms of criticisms… well, the sci fi problems and solutions could prove a bit much for some people.  Personally I enjoyed the creativity involved but I admit that the inclusion of 'the earth rescue' section came at just the right time and stopped the book from becoming too set in a pattern.  Also, I wouldn't say that the characters are deeply explored – this is more a book about survival and the human will to live at all costs – it's not a deeply emotional or reflective book so if you're looking for that element you may be disappointed.  This is more a one man action/survival story with a gripping 'will he/won't he' conclusion.
Personally I was pretty much glued to the page – not like I'd glued my hand there with resin or anything (you need to read the book for that reference) – in fact, towards the end, it feels like everyone on planet earth is watching Mark's progress, gripped with tension and holding their breath and I literally felt like I was one of them!
I received a copy from Netgalley – many thanks to the publisher.  The above is my own opinion.