The Truth is a Cave in the Black Mountains by Neil Gaiman, illustrated by Eddie Campbell

30 June 2014
Filed under Book Reviews
Tags: Neil Gaiman, The Truth is a Cave in the Black Mountains

2 responses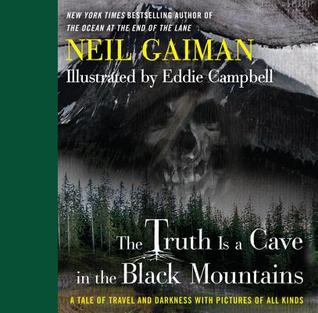 A novelette featuring two characters travelling across Scotland in search of the Misty Isles, gold, truth and maybe something more.  One character is the guide, the other a half man who is not all he seems.
This is a dark and rather haunting story, illustrated in a stark and dramatic fashion.  It's a quick read that starts with the half man searching out Callum McInnes as a guide to to the Misty Isles.  The Misty Isles are strange and mysterious, some say not always to be found in the same place!  Upon this island sits a mountain on the side of which is the opening to a cave in which gold can be found.  You might be forgiven for wondering why all the gold hasn't long since been taken and the answer lies in the payment that must be paid for taking the gold.  It's a price that not everyone is prepared to pay.
I understand that this story was read aloud by Neil Gaiman to an audience at the Sydney Opera House, accompanied by the Four Play String Quartet.  I can only imagine how spectacular that must have been.  Gaiman is an amazing narrator and has the ability to hold an audience spellbound.
Now, obviously, I couldn't drum up the same setting however I made the best of it, reading this by myself late of an evening with just a table lamp and my dog for company.  I thought it had a certain ambience, a certain lonely spookiness if you will!
Anyway, I have no intention of giving away the plot of the story.  This is a short read intended for one sitting.  It is brutal in parts and is definitely not to be confused for a children's story!  Think more of the Sandman or Smoke and Mirrors and you're a bit nearer the mark than Stardust and The Graveyard Book.  It is a difficult book to review because it's only short and yet manages to carry a fairly strong story that will make you think for quite a while after you've finished reading – in fact I admit I went back to the beginning and read certain chapters again.  Even now I'm thinking about the ramifications of what actually took place.  It certainly wasn't what I expected and it's not the sort of book that you can finish and use words such as 'enjoy'.  I think more that it's a reading experience, with the magical words of Gaiman spinning a tale of folklore and superstition, family and revenge.  I confess that I wasn't entirely a fan of the artwork – but that's just down to personal taste and whilst I might not love it I admit that strangely enough it does fit the story with it's strong dark lines.
My thanks to the publisher and bookbridgr for a copy of this book for review.  The above is my own opinion.