We seek them here, we seek them there…..

22 May 2014
Filed under Book Reviews
Tags: Fantasy Review Barn, Tough Guide to Fantasy, Tough Travelling

23 responses
Each Thursday, the Fantasy Review Barn takes a look at 'The Tough Guide to Fantasyland'.  This week's Tough Travel Guide to fantasy takes us to new and unexplored places.  Off the beaten track these places can't be located by map.  If you're in search of adventure then delve right in.  This week's 'wish you were here' is 'Hidden Kingdoms'.  (I tried not to cheat but I think that there are at least two questionable ones on here!!)
1.       A world of talking flowers, cheesy grinning Cheshire cats and pipe smoking caterpillars.  Be sure to visit the Mad Hatter's Tea party whilst you're
there.  All you need to do is locate the white rabbit's hole (located on a lazy sunny day, beneath the trees with a bubbling stream nearby) and follow the pocket-watch-toting bunny straight down.  You need to get your 'hurry' on because he's late.  Read up on court politics before taking this trip – the Red Queen is quick to judge so if you're partial to your head being on your shoulders tread carefully. Alice in Wonderland by Lewis Carroll
 2.       Pay a visit to old Blighty and take a trip to London Below.  A seedy and strange underworld where you will mingle not only with London's homeless but also other fantastical people from different times and places.  London Below is a parallel of London above with a few differences:  The Angel of Islington is ACTUALLY an angel.  Nightsbridge is a scary bridge that literally takes human lives as its toll!  You may need the assistance of 'Door' to enter and the help of the Marquis to traverse the place however be warned that he can be tricksy and slightly untrustworthy.  Neverwhere by Neil Gaiman (Confession: this is one of my 'not quite so sure about choices – is it really a kingdom, or is it more just a 'place' – it's never really made clear if there are rulers as such??)
 3.       The Split Worlds are just the ticket if you want to spend a bit of time in Regency Bath – well Regency Bath the parallel version!  A world of Faerie that lies 'over' the city of Bath.  Finding the doorway is the secret to taking this trip.  Basically, there are mirror images of major cities all over the world where the faerie realms exist.  Between Two Thorns by Emma Newman.
4.       Forget the sinking city of Venice and visit instead the magical realms of a troll city.  Incredibly difficult to get to, only for lovers of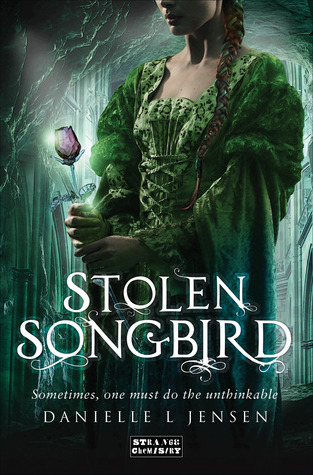 caving and extreme near death experiences.  For a hair raising experience brave the labyrinth of dark tunnels, filled with huge carnivorous, gigantic slug like predators and find the hidden world of the trolls.  Trapped under the mountains by a vengeful witch the trolls have remained underground and largely unknown for eons.  Thanks to a few hardy explorers and the aid of handy markings on the cavern walls more people can now visit this beautiful and intricately chiselled stone world of the trolls,  Might be useful to take a torch as though magic usually provides illumination better safe than sorry is my motto.  Oh, beware, some of the locals are a little, mmm, less friendly, than you might like!  And beware of the King – he has plans for us everyday folk.   Stolen Songbird by Danielle Jensen.
 5.       If you seek dangerous beasts, a wicked queen and snarling wolves that will chase you through the bitter cold then you need a trip to Narnia.  Through the far land of Spare Oom where eternal summer reigns around the bright city War Drobe, take the turning after the fourth fur coat and find yourself beneath an olde worlde street lamp – from there seek out Mr Tumness for tea and crumpets!  Take care not to try some of the local delicacies such as the Turkish delight otherwise you could find yourself becoming a permanent fixture in the castle courtyward.  The Queen is a frosty one for sure but here be talking lions and centaurs – what more could you ask for?  A great day place to visit, get to role play for the odd year or ten and when you return you won't have aged a jot!  Colour me happy.  The Lion, the Witch and the Wardrobe by C S Lewis
6.        Hidden in the catacombs underneath London during the Reign of Queen Elizabeth I is a different court altogether.  Here dwells the ruler of Faerie England – Queen Invidiana.  Marie Brennan's Midnight Never Come – strange alliances between the fae and mortal, betrayal and court politics.
7.   Next time you're travelling through Middle Earth – on your way to battle, gathering your armies – take a little detour and visit the Army of the Dead.  A spooky visitation with the Dead Men of Dunharrow – lead by the King of the Dead they've been cursed by Isildur to remain  in Middle Earth after breaking their oath.  Now, before you go a visiting – be warned they're not the happiest crowd and only answer to the Heir of Isildur – so just make sure you're it – Aragorn that is.  Lord of the Rings by JRR Tolkien!