The Invention of Wings by Sue Monk Kidd

16 May 2014
Filed under Book Reviews
Tags: Sue Monk Kidd, The Invention of Wings

3 responses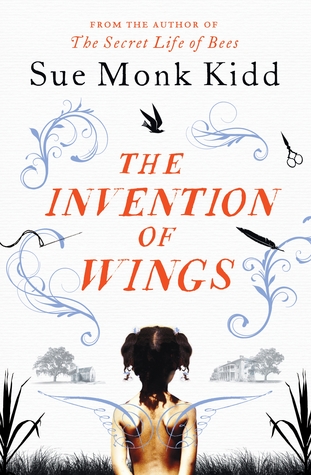 Sarah Grimké is the middle daughter. The one her mother calls difficult and her father calls remarkable. On Sarah's eleventh birthday, Hetty 'Handful' Grimké is taken from the slave quarters she shares with her mother, wrapped in lavender ribbons, and presented to Sarah as a gift. 
I read this book a few weeks ago but couldn't sort my thoughts out into a rational semblance of a review.  I'm not sure that I'm still going to achieve that.  Basically I thought this was a really good book and would definitely recommend it.  Whether I'll manage to give an articulate review of this remains to be seen though!
The story looks at the very different lives of two women living within the same household.  One the daughter of a plantation owner and part of the upper echelons of the Charleston 'first' families.  The other the daughter of one of the slaves who works out from the town house.  The two women involved are Sarah Grimke and Handful.  (Handful was called thus by her mother on the day of her birth – all the slaves name their children privately as their owners give them a name at birth.  For the duration of the story we have alternate chapters from Sarah and Handful.
Sarah Grimke's story is based on a true story that has been dramatised by the author and is brought to life in a wonderful and gripping fashion by SMK's words.  I also think Handful is based on a real character although not as much is known of her story and so a good deal of her story has been created for the purpose of this book.  The author decided to use the two characters to add to the drama and it works really well here.
At the start of the story Sarah is given Handful as a birthday gift – decked out in ribbons.  And so the horror begins – imagine being given to somebody as a gift!!!  Horrified at the notion of owning another human being Sarah tries to free Handful.  This is the start of years battling with her mother and most of the rest of her family about the abolition of slavery and also about women's rights.
I'm sure that we all know some of the horror stories of slavery and so I'm not going to go into too much of the content of the story.  What I think SMK manages to portray really well here is the fact that both Sarah and Handful are, in very different ways, captive.  Sarah, very intelligent and able to reason and argue demonstrably well has been born either in the wrong body (i.e. female) or the wrong time (before abolition).  She's ahead of her time and as you can imagine her notions are not well received living where she does.  Handful is a slave in the real sense of the word but she's been brought up with her mother's beliefs that nobody can really own her.  She has a powerful sense of what's right and wrong and although she's a little bit naive at the start of the story she becomes a very skillful story teller.  Of course, Sarah's way of life can never be compared with Handful's who suffers all sorts of abuse and indignities as the book progresses.  Even when Sarah thinks she's being hard done by her suffering is nothing compared to Handful's.
I really enjoyed the setting – the fact that this is a slave's story but from a different view set in town as opposed to being based out on the plantation.  It's interesting that the lives of the family and the slaves are different from those that I've read previously and yet no less harsh for Handful and the rest of the house slaves.  It was also intriguing to watch the reaction of the owners, thinking themselves so civilised and yet exacting quite horrible means of punishment.  Basically Handful and her mother are worth a good deal to the family.  They're both incredibly gifted seamstresses and therefore when they transgress from the rules the mistress wants to punish them – but not enough to do any really lasting damage which may impact upon her!  It's a very powerful story.  It demonstrates how people can turn a blind eye to all sorts of abuse whilst hiding behind a thin veil of civilisation.  And, it's told so well!
Anyway, I will keep this fairly to the point as I don't really want to go too much into plot.  I enjoyed the story, the setting and the characters.  I think that alternating the chapters in this way gave us a great chance to look at the two differing perspectives.  It was good to see the two girls growing up and experiencing their own difficulties and the ending was both dramatic and tense.  SMK is a lovely writer and I will just point out that although this is a story of slavery, and it's well told and quite eye opening, it is in no way a bloodthirsty or gratuitous read so don't be afraid to pick the book up on that basis. SMK has developed an ability to relay something that could be incredibly horrible to read in a way that retains the horror of the situation whilst being told in a captivating voice.
I was looking forward to reading this book for such a long time and it truly didn't disappoint.  I'm only sorry that I can't give a more articulate review that really demonstrates how much this book really affected me.