Roll up, roll up…the Tough Guide to Travelling through fantasy..

15 May 2014
Filed under Book Reviews
Tags: Fantasy Review Barn, Tough Guide to Travel

21 responses
Each Thursday, the Fantasy Review Barn takes a look at 'The Tough Guide to Fantasyland'.  This gives us all an opportunity to become travel reviewers of the land of fantasy. Join in and take a look at what's a 'hot spot' and what's not!   This week's topic:
Fairground- This is like a MARKET, except it is much , much bigger and planted somewhere right in the middle of nowhere so that everyone can get to it.  There will be rows and rows of TENTS and BOOTHS…
This is actually a bit tougher than I first expected.  I confess that I've cheated a little!! These might not ALL be fairgrounds as such! 
Something Wicked This Way Comes by Ray Bradbury
A dark, gothic tale of two teenage boys who save their town after it falls under the throes of an evil carnival that comes to town in the deep of night.  What else would you expect – you can't have a respectably sinister carnival that arrives in broad daylight after all!  Primarily a halloween tale this particular story has a spectacular fairground with rides, stalls, attractions, a witch like woman, a carousel that literally ages you or makes you younger (maybe worth visiting if you're interested in the secret of everlasting youth)!  Visit this fair if you enjoy the buzz of adrenalin that you will undoubtedly receive as you barely escape with your life!
2. The Troupe by Robert J Bennett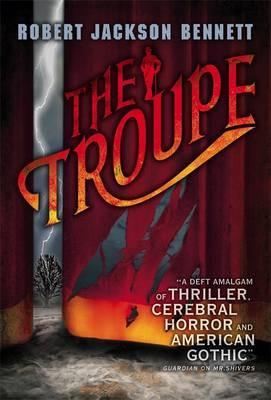 The Troupe is a coming of age fantasy about a young boy who runs away to join the fair!  Well, he runs away to join the Vaudeville circuit and search for his father.
So George, much like Nellie the Elephant, packed his trunk and joined the strange and mysterious world of The Troupe.  They follow a gruelling schedule, in fact you'll be lucky in you can catch a performance.  Are the Troup running away from demons, they're certainly followed by faceless men in grey who blend with the shadows.  The imagination and fantasy contained here is really fantastic.  It's a gripping story.
The Troupe has it's own strong man and a puppet master (creepy at all) and the Master of the show gives a spellbinding performance at the conclusion of each event that leave the audience, quite literally, spell bound.
Stardust by Neil Gaiman is a magical story of a boy who goes in search of a star, crossing beyond the wall in his village into the unknown and coming face to face with unicorns, witches and pirate ships that sail in the clouds rather than the sea.  Where did the story start.  It started with a faerie fair.  An occasion that happens only once every nine years in the field beyond the village of Wall.  On this one particular day the regular mundane people of the village mix with the fantastical, anything is possible and everything is probable.  Visitors to the faerie fair beware however.  Tristan's father visited the fair and 9 months later found a small bundle wrapped in a blanket and placed in a basket left on his doorstep and so Tristan's story did begin.
Finally – and this is a BIG liberty – The Lost Boys.  It's not a book is it!!  But, a lot of the action takes place at the fairground (or the Boardwalk).  There's more to this fairground than meets the eye as Santa Cruz Boardwalk is home to vampires.