Anyways, you need people of intelligence on this sort of… mission… quest… thing.

7 August 2014
Filed under Book Reviews

21 responses
Every Thursday Nathan hosts Tough Travelling over at the Fantasy Review Barn.  This week we're going tough travelling through the tropes of: Quest Objects
QUEST OBJECTS can be various, but are quite strictly defined by the Rules. They are:
1. Material Objects. Cups, jewels, orbs, rings, scepters, stones, and swords.
2. Places. Hidden Kingdomes, islands, old ruined cities, stones, temples, valleys and fountains.
3. Persons. Apprentices, hardship, princes.
4. Knowledge. Usually for birthright or magic or both.
Don't forget to check everyone's links out as it's a really great way of finding new unknown books – and, join in yourself, that way you can add to our tbr!!  All welcome.
Without further ado my choices this week are:
Mr Shivers by Robert Bennett.  This is an unusual, dark and creepy book set during the time of the Great Depression.  We follow the exploits of Marcus Connelley as he traverses the country in search of a mysterious scarred man who murdered his daughter.  He is joined in this by a number of other people who have suffered similar losses at the hands of this strange character.  A compelling gothic story, part horror, part thriller that explores the depths that a person will go to in order to catch a monster.  Is the killer really a human??  Not sure if this entirely fits, although it does involve a band of characters in search of one person?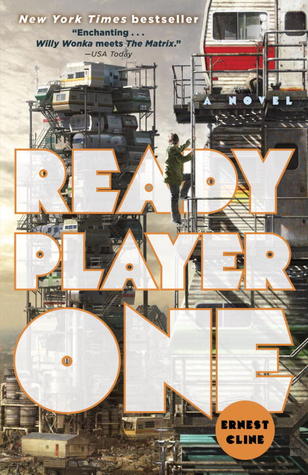 Ready Player One by Ernest Cline.  A fantastic and imaginative tale set in the future where the inhabitants spend most of their lives in a virtual universe.    The main protagonist is Wade Watts who is looking for the legendary golden egg and secret fortune of the now deceased creator of the Oasis that people now spend the majority of their lives playing inside.  Many people have abandoned the search for the egg and accompanying fortune but a few gamers persist in direct competition with the suits from a huge corporation who are also searching for the loot!
Feast of Souls by Celia Friedman.  The story focuses on magic and the price paid for it's use.  We are introduced to Khamal who wants to become the the first female magister ever.  She is ambitious and due to her upbringing hard and stony.    Her quest is for knowledge and in particular the greater knowledge of the magic open to her.  Flawed characters and an interesting magic system that operates different between the sexes.
The Painted Man by Peter Brett.  A fascinating fantasy world that comes alive with demons as the last rays of sunshine set for the evening.  Kept at bay by wards, the nature of which is mostly lost to the people, these demons come in many forms such as rock demons.  The main protagonist for the first book follows Arlen in his quest for knowledge of the lost wards and hopes to become a master in their use.
The Sandman, Dolls House, Vol 2 by Neil Gaiman – in which Dream, following his escape from captivity goes in search of his lost possessions.  The recovery of these items takes more than one volume but this was a great addition – particularly the Serial Convention.
Honourable Mentions
Harry Potter – couldn't resist the search for horcruxes
Lord of the Rings – the quest of all time.
The Hobbit – a double quest for the dwarves and Bilbo – search for the Arken stone and a quest to reclaim their lost home from Smaug
Words of Radiance by Brandon Sanderson – Jasnah's search for the hidden city of the Shattered plains